"HappyThankYouMorePlease," no thanks.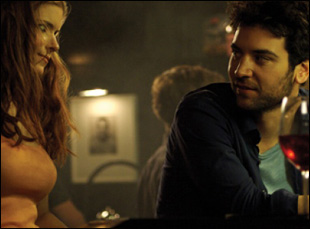 Posted by Sam Adams on
Reviewed at the 2010 Sundance Film Festival.
The Sundance Film Festival's self-hype this year is full of words like "rebel," "revolt," and "rebirth," but innocuous romantic comedies like "HappyThankYouMorePlease" are presumably not what they have in mind. The writing and directing debut of Josh Radnor, best known as "How I Met Your Mother"'s Ted Mosby, centers on a sextet of young, comely New Yorkers trying to pull their lives together. Radnor centers the ensemble cast as an aspiring novelist who is having trouble breaking out of the short form, both in his work and in his personal life.
Either literally or figuratively, all of "HappyThankYou"'s characters are hovering on the brink of 30, struggling to divest themselves of their emotional baggage and walk gracefully into the adult world. Pablo Schreiber and Zoe Kazan play a cohabiting couple whose relationship is unsettled by the need to make a handful of pressing decisions rather than just drift comfortably through life, while Malin Akerman is a philanthropic development associate with alopecia and an unerring talent for dating underdeveloped bad boys who pose no threat of long-term commitment.
Radnor unsettles his protagonists' prolonged adolescence with a handful of plot devices that, even at Sundance, strain the boundaries of winsome contrivance. For starters, there's the young African-American boy (Michael Algieri) whom Radnor picks up on the subway, a foster-care refugee whom he ends up taking in for several days. At the same time, he picks up a sharp-tongued but melancholy barmaid (Kate Mara) — you can tell she's sad inside on account of the massive amounts of black eyeliner she wears — and coaxes her into signing a contract to move in with him for three days.
That he immediately starts backing out, and that it therefore amounts to no more than a ruse to get an emotionally fragile woman to sleep with him on the first date, is noted in passing, but the movie never quite takes stock of the fact that this makes Radnor's character more than a bit of a prick — a fault which neatly encompasses "HappyThankYou"'s shortcomings. Radnor has his finger on a real phenomenon: the reluctance with which white, middle-class Americans approach adulthood, and their ability to construct complicated rationales to justify their fear of growing up. Kazan's character, for one, rebuffs her boyfriend's proposal by pointing out that she comes from a long line of divorcées, as if her snakebit recoil from the prospect of future plans were a matter of principle.
But the movie lacks any real sense of perspective, or performances that might expand the characters beyond their bland outlines. Akerman's mannered fussing is particularly grating, although she's also saddled with the bulk of the film's late-game insights, which spill out in a handful of clumsily written monologues. Her climactic revelation, that her sweet, smitten co-worker Tony Hale may not, in fact, be too unattractive to date, is a baby step away from the shallowness that the movie treats as a profound insight. With a little reediting, "HappyThankYouMorePlease" could be transformed into a poisonous satire of a romantic comedy rather than a semi-conscious exemplar thereof. Now that would be rebellious.
"HappyThankYouMorePlease" does not yet have U.S. distribution.
[Photos: "HappyThankYouMorePlease," Paper Street Films, 2010]