George Lucas on American Graffiti's music and the Green Bay Packers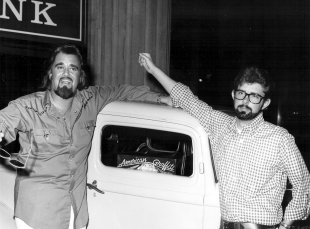 Posted by Brandon Kim on
The great George Lucas has been making the rounds with a modestly titled book, "George Lucas's Blockbusting: A Decade-by-Decade Survey of Timeless Movies Including Untold Secrets of Their Financial and Cultural Success." Much as I believe and have cited his work to be the greatest failure of the decade, I would point out that is only because of the prior heights to which he rose and the expectations we all had. I fear greatly for President Obama too.
Well ol' Lucas was kind of mediocre on the Daily Show, or maybe it was actually *gasp* Jon Stewart who was, but his interview on NPR was somewhat captivating. He talked about his archetypal 1960's coming of age/cruising film, "American Graffiti" (1973), which has been deemed so culturally important it has been preserved by the National Film Registry. The all American soundtrack is in the Library of Congress.
Lucas broke down the meager cost of obtaining that huge catalog of music and how drastically the studio underestimated the appeal of an all-soundtrack (no score) flick.
"They said you can't just put that much music in a movie, it won't work. And you can't – you have to score it. You can't just throw songs on it. It's not going to work. It's because nobody had ever done it before.

So I did it. We made the movie. We put the music in there.[For only] $70,000, and at the time we said, look, for another $5,000 per song we can get you the record rights to this. And they said no, no, no, no, we don't want any record rights. We don't want anything….

A year later, the studio went to do an ["American Graffiti"] album after the film was a giant hit, and it cost them a million dollars…"
They should have paid the extra 5 grand a song. On the subject of the future of movie theaters in the face of increasingly comfy an convenient home theater solutions Lucas conjured the Nation's most beloved football team.
"I always tell people, I say look, as long as Green Bay Packer fans go in the 70-below-zero weather, in the snow, to watch a game they can't actually see because they all want to be together and scream together and have a good time together, the movie industry is safe."
Good point. He goes on to say that theaters will have to evolve, include more amenities, become a refined communal experience, but they'll adjust. He's probably right, as usual – whether someone like me enjoys it or not remains to be seen.
Listen to the whole interview @ NPR.