"I learned fried chicken at the school of hard knocks."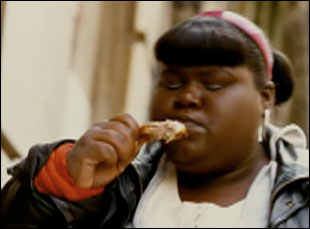 Posted by Vadim Rizov on
Slate's annual "Movie Club" meeting of critical minds is off and running, with some of our still-employed stalwarts — Slate's own Dana Stevens, the Boston Globe's Wesley Morris, Salon's Stephanie Zacharek, freelancer Dan Kois and Roger Ebert — united in order to hash out…well, "Precious," again.
But in that process, Morris contributes the first genuinely original, compelling take I've read on the film.
It's about the food. That Precious steals a bunch of fried chicken has been the single most-cited point for those arguing that the film runs towards racist stereotypes. Morris sees it differently:
If all we can see in this melodrama is a kind of "Rhythm Nation"-esque social tract (Illiteracy: No! Ignorance: No! Teen pregnancy as a consequence of incest: No!), then food is one of its complaints. […] There are obvious socioeconomic explanations for why some of us eat what we do, and this is the only film I can think of that manages to fold the problem of class and diet into the larger nightmare of abuse.
These days, food consumption is fraught with class and nutritional implications at all times — especially in a country simultaneously noted for its rampant obesity and its high expense of eating nutritiously.
I'd argue that "The Informant!" also foregrounds the whole class/food connection in its portrait of an industry foisting a deeply unhealthy product (corn derivatives) on an unaware public. "The Informant!" briefly dramatizes what a movie like "Food Inc." builds itself around: the idea that the way we eat (unless we're very lucky, spend enormous amounts of time and money on food and can generally afford to be exceptionally conscientious) is not up to us to control, which is truer and truer the further down the economic ladder we go.
Soderbergh covered the other end of the spectrum with "The Girlfriend Experience," in which sometimes it seems the only reason Sasha Grey is an escort is to afford designer risotto which she picks at.
I'd also point to Nimrod Antal's "Armored" as a subtle(r) corollary to "Precious," its working class milieu equally menaced by social workers and bordered by lousy nutritional options; everyone's chowing down on greasy hot dogs for lunch and cheap beer for dinner as a matter of course.
The loser in all of this? "Julie & Julia," whose depiction of Julie Powell's quest to master the Julia Child ouevre isn't just oddly low on the kind of food porn you'd expect from the kind of movie that logically should slot next to "Babette's Feast" and "Big Night," it's inadequate in thinking about how harassed, low-paying, living-in-Queens Powell got specialty ingredients for a whole year.
[Photos: "Precious," Lionsgate, 2009; "The Informant!," Warner Bros. Pictures, 2009]