The cranky charisma of Harrison Ford.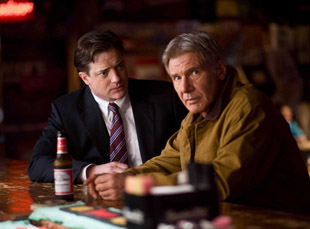 Posted by Vadim Rizov on
Harrison Ford has a reputation for disliking interviews — so much so that, talking with the star ahead of Friday's "Extraordinary Measures" at the AV Club, Tasha Robinson gets it out of the way first thing.
"You have a reputation for hating doing publicity interviews. Does having that out front help?" she asks. Ford responds, a bit disingenuously: "I didn't know that I had that reputation." (No way.) But: "I don't mind answering thoughtful questions. But I'm not thrilled about answering questions like 'If you were being mugged, and you had a lightsaber in one pocket and a whip in the other, which would you use?'"
Put that way, I don't blame him one bit.
The interesting thing about Ford's cantankerousness — justifiable or not — is how it juxtaposes with the persona that made him famous. In his breakout part in "American Graffiti," Ford was hilariously cocksure of himself; as Han Solo and Indiana Jones, he defined laconic confidence.
Yet despite the roles that made him a box-office supernova — roles that led, inevitably, to a series of critically/commercially disappointing duds ("K-19: The Widowmaker," "Hollywood Homicide," "Firewall" et al.) — there can be something pinched and constricted about many of Ford's roles. The famous ones, sure ("Blade Runner," "Witness") but there's more where that came from (TV Guide's formidable review database compares his performance in "Presumed Innocent" to "a tightly balled-up fist").
Charming man of action though Ford was, there was something oddly appropriate about him taking the Humphrey Bogart part in 1995's ill-fated "Sabrina" remake. For all his easy charisma as Solo/Jones, he wasn't exactly going to turn out to be the new, action-oriented David Niven or something; that'd be George Clooney, who never lets the gap between off- and on-screen personas grow too large. Ford really is more like a hangdog, dour Bogart successor with a prettier face and who can run faster.
As an actor, Ford takes himself very seriously indeed (read that interview if you don't believe me), which suggests the intensity it took to make himself that seemingly effortlessly likable onscreen. And that makes him an anomaly: the charming leading man who may not have much natural charm of his own — the same way David Byrne isn't a real weirdo; he just plays one on-stage.
[Photos: "Extraordinary Measures," CBS Films, 2010; "Sabrina," Paramount, 1995]