Flash Gordon (not starring Sam Worthington), Queen score.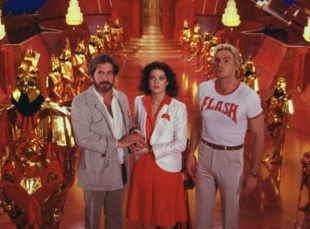 Posted by Brandon Kim on
The 1980 camp triumph, "Flash Gordon" was a master stroke of garish colors, spandex, and Queen's Oberheim synthesizers. It was only a matter of time before this classic Dino De Laurentiis production got a remake. Slated for 2012, rumors abound as to who will star, but Sam Worthington recently shot down the claims that he was approached.
The original film cast Sam J. Jones as, an all American ex-marine who'd been in "10" the prior year, as Flash. Maybe studio exec's can't get past the name Sam. Aside from a lot of hot chicks, the rest of the cast included Max von Sydow in heavy eye liner, Timothy Dalton, William Hootkins (Porkins from "Star Wars"), and the completely unforgettable Brian Blessed as Prince Vultan.
Of course, the real stars were Freddie Mercury and Queen. Toughest camp score of the 80's? Behold:
I'd like to see if remake director Breck Eisner can top Queen with some kind of fully blown rock orchestra by a current band. Somehow I doubt it, nor do I think he has the chops that the mystifying Mike Hodges had, who went on to shoot "Morons from Outer Space" and then Clive Owen's big break, "Croupier."
As for Worthington, although he has wisely not choosen to court the cheesy Flash role, he is wearing a Captain America shirt in this interview with "Avatar" co-star Zoe Saldana. Hmmm.