Whatever happened to bizarro fan club videos?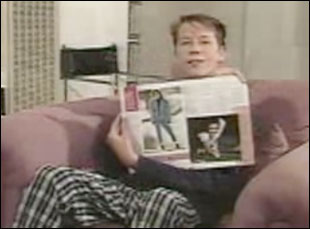 Posted by Stephen Saito on
That was the question I had this weekend after Cinematical unearthed "At Home with Corky Nemec," a surreal tour through the bedroom and the mind of "Parker Lewis Can't Lose" star Corin Nemec.
If you don't remember Nemec as Fox's answer to Ferris Bueller, or for the short-lived film career that followed during the early '90s (which included a role in 1994 Wesley Snipes skydiving actioner "Drop Zone"), you won't be able to forget him as a good-natured, Bob Marley-worshipping teen with his "interesting array of wax dripping over skulls" after watching a few minutes of the clip.
Nemec's still working, starring in projects like "Mansquito" and the occasional "CSI: Miami" guest spot, but fan club video is all but dead, which seems strange in the age of YouTube. (Or thoroughly understandable, considering how ridiculous many one-time teen idols appear now, rattling off their likes and dislikes in a cheaply produced appeal to fans that will be kicking around the web forever.)
Gone are the days when you'd wait for a very light VHS-shaped package to arrive in your mailbox after filling out a leaflet from Tiger Beat. You won't see Taylor Lautner or Robert Pattinson appearing in anything similar any time soon — though that hasn't stopped others from doing the work for them, which you might've noticed if you've seen the walls at your local video store lined with "Robsessed."
Today, all someone in Nemec's position would have to do is open a Twitter account à la Ashton Kutcher and let loose (or have their assistant do it for them), rather than subject themselves to 15 minutes in front of the camera waxing on about their love of Gumby.
There's something sad about that, especially if you've seen the granddaddy of these kind of clips: Corey Haim's "Me Myself and I," a half-hour "video diary" filmed at the height of the "Lost Boys" star's popularity — and of his drug use, which makes the whole thing a little tragic once you get past how bizarre, funny and oddly decadent it is. Made in 1989, "Me Myself and I" was intended to both speak to Haimster devotees and signal a different direction for the star; as Haim himself says in the video, he's striving to break free of younger brother roles to play the older brother or "the only brother."
Whether drifting past the frame on an inflatable alligator in a pool or splayed out on a white leather couch, the then-17-year-old Haim is featured dishing on a variety of subjects from his career to his eclectic interests of John Ritter and Japanese funk. (Yes, a significant portion of "Me Myself and I" is devoted to his "music.") Unfortunately, it appears to be the relic of a bygone era, but please enjoy while you can: