Are family dramas and special effects incompatible?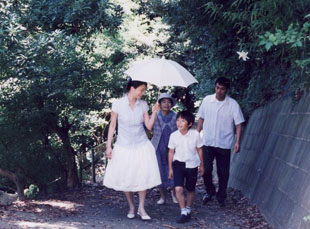 Posted by Vadim Rizov on
At the Guardian, David Thomson pits "Avatar" against Ozu, or at least the ghost of Ozu as manifested in Kore-eda Hirokazu's "Still Walking," which just hit UK theaters:
You might expect he's gauging the gap between overwhelming spectacle and the gold standard for Profound Understatement, but — oddly — what he's mostly concerned with is that "Avatar" promotes spectacle at the expense of "the human face" (guess he's not a motion-capture kind of guy — suck it Cameron!) and, uh, because the Na'vi's familial structure does "not have a sensibility that recognises family kinship and the issues of family experience."
Avatar is garbage, too, and that can only be pinpointed by stressing its abject subject matter and its inability to see that the most spectacular thing the movies ever had to offer (see Renoir, Ophüls, Ozu, Bresson … well, just keep seeing) is the human face as its mind alters or saddens.
Arguing with Thomson is like screaming at quicksand, so I'm not even going to bother — the dichotomy's false, having "Avatar" around doesn't mean "Still Walking" can't also be there, and I'll leave it at that. But I am interested in the idea that family dramas in general default to that mode of quiet understatement and honing in on "human," non-FX based stories, and that the two modes are incompatible.
I suspect, with some unease, that may be right Thomson's about that. It's one thing to make a movie that's visually unusual, as long as the effects are more punctuation than the main substance — take Katsuhito Ishii's little-seen 2004 "The Taste of Tea," which combines — yes! — lots of family dinners and tea-drinking with, say, random gigantic girls over the horizon, Ozu via Miike.
But shock and awe's a whole other deal. Only one blockbuster really comes to mind as balancing the two sides of the scale — "Close Encounters of the Third Kind," one of the more incisive movies about familial abrasion and disconnect. "Close Encounters" actually dramatizes the very dilemma in question, going from the mundane hell of Richard Dreyfuss' family life to the soothing comforts of UFOs and creamy lights from afar.
In general — spectacle and the family aren't reconcilable, Mr. Thomson: point conceded. But Ozu-ites are always the minority — "Avatar" won't change anything about that.
[Photos: "Still Walking," IFC Films, 2008; "Close Encounters of the Third Kind"; Columbia Pictures, 1977]