"Exit Through The Gift Shop": It's a madhouse, this modern life.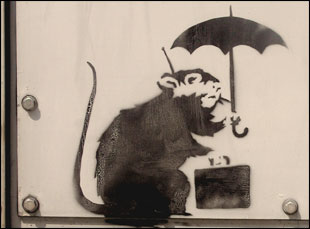 Posted by Alison Willmore on
Reviewed at the 2010 Sundance Film Festival.
At the end of "Exit Through The Gift Shop," a few of us Googled the name of its subject to make sure he actually exists. I'm sure we weren't alone — "the world's first street art disaster movie" is also the first movie from pseudonymed British art star Banksy, who's never had a problem being playful with the truth before. A web search makes it clear that Thierry Guetta (aka "Mr. Brainwash"), a Frenchman living in L.A. who finds his way into the street art scene, is a real person who ended up having a real 2008 show that earned him a real L.A. Weekly cover story. And even then, some people wondered if he was a phony, a fake or an invention of Banksy himself.
But as a wise colleague pointed out, the truth isn't actually that important to this delightful film, which chronicles how Guetta, an effusive guy with gigantic mutton chop sideburns who obsessively self-documented his life with a video camera, became the official chronicler of the rise of street art. It starts with him following around his cousin, the anonymous Space Invader, who puts up illicit mosaic tiles inspired by vintage video games in cities around the world. Through him, he meets Monsieur André, and then the likes of Swoon, and Sweet Toof, and Borf, and Ron English, and many others, including Shepherd Fairey and, finally, Banksy.
Guetta chronicles all of these artists at work — Banksy hooded, or from behind, or in shadow, voice altered in the film's interviews — following them at night as they spraypaint tags or stencil buildings or put up stickers or wheatpastes, and getting some amazing, exclusive footage that he… never intended to use. Guetta claimed he was making a doc on street art, but he just tossed the tapes, sometimes unmarked, into boxes. It was being there, capturing it all, and having a place in the scene, that he loved.
And that's where "Exit Through The Gift Shop" gets really interesting. Guetta doesn't seem to have any deep connection to art — he bewilders some of his subjects with blithely clueless questions. But he likes, again, the scene, and he invents a persona, Mr. Brainwash, and starts putting up his own wheatpastes (one directly on top of one of Fairey's "Obey") all over town. Seeing Guetta's not going to get it together to make the street art chronicle he thinks needs to happen, Banksy convinces him (this part's a bit fuzzy) to leave the footage in London and work instead on putting together a showcase of his art in L.A., portrayed as something of a Faustian bargain. Guetta takes his blessing and runs with it (literally making Banksy's statement about him into a billboard-sized ad), sinking enormous amounts of money into a giant self-funded gallery show filled with paints and sculptures he and his army of assistants (mainly the latter) have created.
Street art, before it started funneling into the gallery world, had a necessary purity to it — it was impossible to make money from directly; it was accessible to, even unavoidable for, the public; and the very act of making it risked prosecution. With the rise of the form, with the acceptance of its value as serious art, with the recognition and the collectors suddenly willing to shell out thousands of dollars for pieces, it became subject to the same bullshit as the mainstream art world, where hype and groupthink determine what's valuable, what's good, because no one can tell otherwise.
"Exit Through The Gift Shop" becomes a duel of narratives, with Fairey and the dryly funny Banksy offering their take versus that of the expansive and impossible to dislike Guetta, whose art may be derivative and terrible but whose grasp of the other trappings of street art stardom is dead on. In the end, Banksy finds himself trapped by his own game-the-system ethos, ruefully pointing out that Guetta didn't play by the rules, but that there aren't any rules, so he can't really complain. "I used to encourage everyone to make art," he says. Beat. "I don't really do that anymore."
"Exit Through The Gift Shop," which is narrated by Rhys Ifans, does contain some remarkable street art footage, including a killer opening montage set to Richard Hawley's "Tonight The Streets Are Ours." You also see Banksy's 2006 trip to Disneyland, during which he placed a blow-up doll dressed like a Guantanamo inmate by Thunder Mountain. And then went on the "Pirates of the Caribbean" ride.
"Exit Through The Gift Shop" does not yet have U.S. distribution.