"Dune": Once more, with feeling.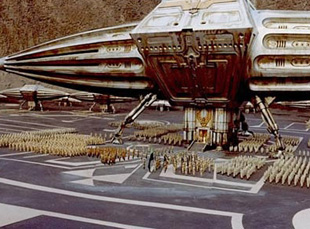 Posted by Vadim Rizov on
Some day, cinema's going to get around to filming the grand doorstop novels of postmodernism — any medium foolhardy enough to attempt not one but two versions of Joyce's "Ulysses" (and one of "Finnegan's Wake"!) will sooner or later convince itself that nothing is unfilmable.
In the meantime, I'm struggling to figure out why Frank Herbert's "Dune" is straggling towards the screen for a third time, courtesy of "Taken" director Pierre Morel.
Like those massive postmodern works, Herbert's classic sci-fi tome is unfilmable not because of its length so much as because of the amount of detail that makes up its texture. If David Lynch's attempt failed with fans of the book, the general public and its own maker (it's the only movie he's not proud of), it was sort of unavoidable at a runtime of under three hours — hardly enough to get started. Since a decade ago, the SciFi (now SyFy) network gave us a five-hour miniseries that seemed to please most of the true believers, what's left to do?
The world of "Dune" itself is as arcane and convoluted as ancient Rome. Herbert's book has actually been compared to Edward Gibbon's six-volume "The History of the Decline and Fall of the Roman Empire," and it's clear why that couldn't be a movie. (A sexed-up HBO show, on the other hand…)
The usual compromise for not being able to have, in movie form, a long enough running time to properly do justice to a story is usually FX. So where does this proposed remake come in? Morel has so far been fuzzy on the specifics of his "very respectful" adaptation, but a respectful and viable production seems pretty much impossible. Is "Dune" supposed to be the new "Lord of the Rings," with a franchise-hungry studio taking a big gamble on length and expensive effects?
I could see "Dune" working now as an ecological horror story — which is what it was supposed to be anyway — but that seems an awfully thin hook on which to hang a blockbuster. Meanwhile, the fans have been appeased, and no one else will take it.
On the topic of unfilmable works of literature, Columbia University's Neiman Gallery is going to have an exhibitions of works works from the filmography of James O. Incandenza, the fictional paterfamilias/tortured auteur of David Foster Wallace's "Infinite Jest."
Incandenza's invented filmography, complete with running times, casts and formats, is the first major footnote in a work that's famously heavy with them, filled with clues and context that turn out to be useful later. (It's also a great goof on film academia.)
[Photos: "Dune," Universal, 1984; "A Failed Entertainment" poster, LeRoy Neiman Center for Print Studies, 2010]