Drama: A superior form of comedy?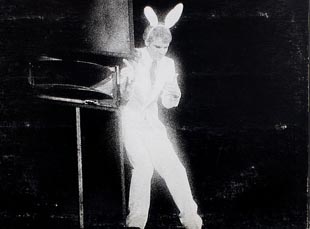 Posted by Vadim Rizov on
A couple of weeks ago, a friend told me I didn't like comedians; after a little thought, I had concede this is basically true. We were talking about Jane Lynch and Will Ferrell and the day's other leading comic luminaries, all of whom basically grate on me; while they're performing, they give off this air of knowing how funny they are, which bothers me. I was and remain a big fan of a lot of the '70s comics (Steve Martin at his peak, the original "SNL" cast, etc.), but you rarely get that sense of complacency off them. My problem? Sure, but I can't be the only one.
I was thinking about this when last week another friend proposed you could measure a dramatic actor's true worth by their adeptness at comedy. I disagree, but it made me think about how most of my favorite comedies star people who aren't necessarily comedians. This isn't a hard-and-fast rule: I like the Marx Brothers as much as the next guy, most of the Apatow crew and, yeah, Paul Rudd, all of whom aren't usually noted for their dramatic change-ups.
However, a lot of my favorite comedies star people who aren't necessarily comedians. "Dazed And Confused" is something I watch about four times a year (it's like Prozac but far more effective), and — Adam Goldberg aside — it either stars people who went nowhere or a few people whose comic careers should've been bigger (Matthew McConaughey, never better) or never took off (Ben Affleck, ditto). Then again, that's not exactly a gut-buster.
So how about "Tootsie"? Sydney Pollack approached it like it was Chekhov, and it worked brilliantly. Or "Bad Santa," which makes me laugh harder than anything, starring Billy Bob Thornton? Also, granted, Bernie Mac and John Ritter are onhand as support, but they're all on the same page. Or how about, I dunno, the entirety of last year, where I laughed more than I had in a long time — "In The Loop," "Up," "Adventureland" (not exactly a 100% comedy, but work with me here), "Harmony and Me," "Humpday" — all movies where traditionally dramatic players find the humor in situations, rather than initiate it, to brilliant effect.
Obviously, I've got a mental block when it comes to films that are built around a comedian's sensibilities — in fact, I prefer comedies driven by the director's sensibility rather than servicing the needs of the comic center, but I've noticed I also prefer comic actors rather than straight up comedians acting. They seem to work harder for the laughs without taking them for granted; the best make it look effortless. Surely I'm not the only one?
[Photos: album cover of "A Wild and Crazy Guy," Warner Bros. Records, 1978; "Bad Santa," Dimension Films, 2003.]