This hard-hitting doc about eating is brought to you by Alli.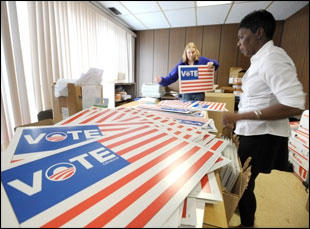 Posted by Vadim Rizov on
On January 25th at this year's Sundance Film Festival, a representative from pharmaceutical giant GlaxoSmithKline will announce who's been chosen to direct what the company calls the " 'Inconvenient Truth' of mindless eating." In other words, a "'hard-hitting' documentary about eating," financed by the creator of diet drug Alli.
The company is covering its back by allying with the Creative Coalition, a nonprofit political advocacy group backed by the likes of Alec Baldwin. Nonetheless, there is some skepticism that GlaxoSmithKline will actually allow their promised "Academy Award-winning director" (oh my!) to use their money to just raise awareness of obesity without mentioning their product. The New York Times turned to "Darfur Now" director Theodore Braun for a politely dismissive comment: "I can't imagine that a company as legally and rhetorically sophisticated as GlaxoSmithKline is going to leave its interests unprotected."
But, like, who cares? It's not as though we're lacking in movies at least implicitly about obesity and health. And the agendaed doc is far less uncommon than many would like to think. I've reviewed at least two glorified informercials in the last year, "Ten9Eight" and "Labor Day," where the institution ostensibly being examined also bankrolled the whole thing. The boundaries are already blurry on a small scale; this'll just cost a bit more.
[Photo: "Labor Day," Catalyst Media, 2009]