Highlights from the DIY Gaming Frontier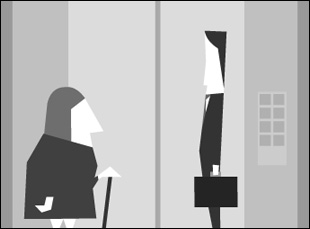 Posted by Nick Schager on
Thanks to better access to digital tools and improved distribution methods, indie gaming is on the cusp of a potential surge. But that rise won't come just from established producers out to do their own thing. It'll also happen because of upstart amateurs whose enthusiasm for gaming and technological talents lead to passion projects created not to reap financial rewards, but to showcase their authors' skills and push game development into daring new realms of design and social commentary. In other words, the indie game world should be the first place you look when making the argument that games can be art.
One of the best examples of this is the Experimental Gameplay Project, a venture that was begun in 2005 at Carnegie Mellon University by four graduate students who are all now firmly ensconced in the gaming industry. It started as a web competition for gaming innovation, and continues today. The set-up is simple: every month, contributors submit a game (Flash-based, or downloadable to a PC, Mac or mobile platform) based on a given theme, like "Unexperimental Shooter," "Failure" or "Numbers."
The only rules are that the game must be made in less than seven days and by only one person, and at the end of the month, a winner is chosen. It's a straightforward concept that's led to amazing results, with countless titles that showcase both technical and thematic ambition, and at least a few that are so good that they've gone on to moderate mainstream success. The Experimental Gameplay Project heralds a new future of boundary-pushing homemade indie gaming. Here are some of the standout titles worth a highlight and a play.
"Canabalt"
Adam Saltsman's "Canabalt" is the definition of gaming simplicity. Produced in five days for EGP's "Bare Minimum" theme, the black and white game (available as a free Flash web title or as a $2.99 iPhone download) couldn't be more basic — as a man runs forward on an unknown quest, you hit a single keyboard button (or your iPhone touchscreen) to make him jump over obstacles and from rooftops to billboards to cranes. There's no storyline and no predictable pattern (the game's "level" changes every time you play), just the infectious challenge of trying to top your personal best score while enjoying a rocking soundtrack and admiring a host of sweet graphical flourishes (none better than flocks of flying birds). For pure addictiveness, nothing in '09 topped "Canabalt."
"Every Day the Same Dream"
A game in only a loose sense of the term, Paolo Pedercini's Flash contribution involves maneuvering a faceless figure through a series of daily-grind scenarios (bedroom, kitchen, car, workplace) set to an entrancing musical score that makes the action feel like, as Pedercini puts it, "a playable music video." As you explores the game's various workaday scenes, a puzzle begins to emerge, one in which breaking free from monotonous routine reveals a bleak, haunting commentary on the loneliness of the modern human condition and the limited potential for finding true meaning in life. Heady stuff, to be sure! But "Every Day the Same Dream" is anything but a slog, mixing enigmatic gameplay and social inquiry to mesmerizing effect.
"Lose/Lose"
Zach Gage's "Lose/Lose" takes its EGP theme — "Failure" — with deadly seriousness, to the point that it should only be played by those brave enough to risk the safety of their digital property. Gage's title is a "Space Invaders" clone, except that, in the game's terrifying twist, the alien enemies are actually real files from your hard drive, and when you blast these files in the game, they're deleted from your computer. For good. Suffice it to say, only the intrepid or insane would actually play Gage's game. Still, as a sly meditation on cultural reliance on technology (for practical purposes and for identity definition), it's a one-of-a-kind work.
"MinMe"
An iPhone title with "Tetris"-like appeal, Chaim Gingold's "MinMe" is a puzzle game made for the "Bare Minimum" theme in just one and a half days that requires you to collapse tiles until the playing field grid is empty. No fancy graphics or music accompany this strategy-based title, but as a portable brainteaser, it's a winner — even more so now that Gingold has expanded the game from its original, easyish ten levels to include an additional 50 increasingly difficult boards available via in-app purchasing.