Looks like film, but it's not film.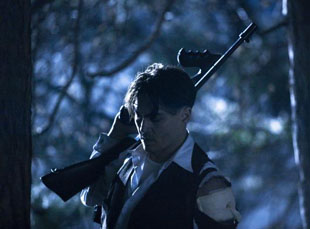 Posted by Vadim Rizov on
At the LA Weekly, on-the-verge-of-departure editor Scott Foundas pays Michael Mann a visit on the occasion of the release of "Public Enemies" on DVD. Foundas gets the director to open up a bit about the ways he's been pushing digital photography into the avant-garde realm while shooting summer action movies.
"The advantage of the technology is in a search for its own aesthetic, not to try to duplicate what you can do on film," Mann muses. "If I'm going to do that, I may as well shoot film."
Indeed, though, judging by the underwhelming box office numbers for "Miami Vice" and "Public Enemies," someone forgot to tell the public, who seem a little mixed about what Mann is doing. Shooting at night, he makes gunshots into startling light bursts, and indelibly captures LA's afterhours grid in "Collateral." But sometimes his tendency toward harsh camera movements and deliberate calling of attention to the technology's inability to keep up the way film does seems less than productive.
Mann's not the first to use video this way. It's had its own cinematic following since the '70s, mostly among boundary-pushers and the underground (Godard, Paul Cox, Rob Nilsson). It was only recently that the technology became both good and cheap enough to be thought of as a replacement for the expensive pain-in-the-ass of film.
Steven Soderbergh's made a specialty of exploiting primitive digital for all its worth, as early as 2002's (almost unwatchable) "Full Frontal," which made a point of pointing out how different it looked from film. Those visuals were unredeemable — he's since used digital filming for a series of mostly gorgeous movies.
Mann's interested in taking digital to a new place — he compares it to architecture:
It's not an analogue of film — it's totally different. Just like when they first used steel in architecture, initially it was to make buildings that took their form from masonry buildings, even though they didn't have to. You didn't have to have a pediment on the roof, but a lot of early modern architecture, particularly in New York, did.
I think he's laboring under a misapprehension. What the industry really wants is a flawless digital replacement for film that'll make moviemaking faster and cheaper. The look of "film" is here to stay, whether or not it's actually on film. The look of digital will be put to use in music videos and for certain visual flourishes, for effect, but it's doubtful that it heralds a brave new world.
[Photos: "Public Enemies," Universal, 2009; "Collateral," DreamWorks, 2004]