Why James Cameron is no Cecil B. DeMille.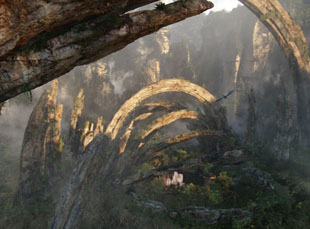 Posted by Vadim Rizov on
We're approaching the awards season home stretch — the Golden Globes are done, the Oscar announcements are in two weeks.
Some previously surefire contenders have fallen by the wayside since critics' associations started putting out their lists in December. "Precious" — which I wasn't alone in thinking a "Slumdog Millionaire"-esque Best Picture contender — has topped off at just under $45 million at the box office, and no one but Mo'Nique seems to be still gunning for Oscar glory (though a friend of mine enmeshed in graduate school academia assures me black studies will be grappling with the film for years, so there's that).
The biggest Globes news (beside the fact that host Ricky Gervais was funny but inexplicably poorly reviewed) was that "Avatar" appears on track for Best Picture, though its Golden Globe victory hardly makes that a certainty. As Xan Brooks at the Guardian points out, in the last five years only "Slumdog" got Best Picture both at the Globes and Oscars.
But you can sense the buzz around "Avatar" as an indicator of a major shift in awardsland, thought what it means depends on where you're standing. For the cranky Brooks, the win "tarnishes" the Globes (um, they can be tarnished? I thought we just tuned in to watch the drinks manifest themselves onstage) because it's a Hollywood circle-jerk. You really can't win sometimes. Complain about the awards being out-of-touch with ordinary filmgoers, get awarded a populist victory and what happens? People start complaining about the self-congratulatory speeches.
Closer to home, people are thrilled — none more so than Betsy Sharkey in the Los Angeles Times, whose victory lap pretty gave me hives. Using the fact that Scorsese got the Cecil B. DeMille award as a starting point, Sharkey concludes that the awards exemplified the spirit of DeMille: "forever the populist, never the auteur." Which is a good thing: unlike those huffy snots "De Sica, Welles, Hitchcock and the like" (the like? Would you like to try to group together three less similar filmmakers?), DeMille didn't "push the artistic and intellectual boundaries of film." Instead, he "never lost sight of his audience, mostly hardworking folks."
Sometimes you have to wonder if it isn't a good thing that the newspapers are dying; Sharkey's language here is inadvertently pretty close to the worst kind of demagoguery. But what's more interesting is the way the comparison becomes weirder and more instructive if you follow it. DeMille was so intensely conservative that while on the Screen Directors Guild in 1950, he tried to push through a bylaw requiring all members to sign a loyalty oath. Reflecting the climate of the '50s, he conceived of "The Ten Commandments" as a political statement (Judeo-Christian values vs. the Communist threat) and had Ten Commandments monuments spread all over the land, as promotion and a proclamation of principles.
Cameron is the biggest showman of our time, and nothing if not an unapologetic populist. But he's as liberal as DeMille was conservative — if you want to push that comparison to its logical conclusion, that would mean that Hollywood is every bit as liberal now as it was conservative 50 years ago. (Which, well, duh.)
Even more, DeMille's early work (particularly the silents) has been enthusiastically reclaimed by avant-garde enthusiasts as pure, unfettered insanity, inadvertently deranged in its gonzo scale. As spectacle films decay with technological advances and the cracks start to show, excess starts to look downright surreal. So keep that in mind before blathering about populism — yesterday's spectacle is tomorrow's novelty.
[Photos: "Avatar," 20th Century Fox, 2009; "The Ten Commandments," Paramount, 1956]