Burning Love, "Daybreakers" exsanguinates itself.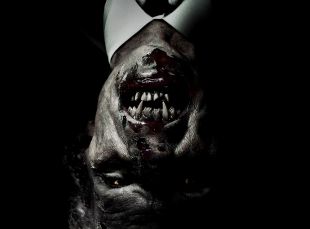 Posted by Brandon Kim on
Written and directed by brother team Michael and Peter Spierig, "Daybreakers" is a complete disaster of a film with one or two, probably unintentional, redeeming qualities. Variety gets credit for a misleading blurb (taken somewhat out of context) 'Take…"The Matrix" and…"28 Days Later," …and you've got "Daybreakers."' A more accurate summation would be: Take "Starship Troopers" and a dumbed down, desiccated cut of "Gattaca," add vampires, and you have "Daybreakers."
I love vampire pictures. All kinds of them. Coppola's "Dracula," Michael Almereyda's "Nadja," Joel Schumacher's "The Lost Boys" are all something to aspire to. More recently, the shiny black leather "Underworld" series even got me fired up and I admit to tolerating "Twilight" for it's assistance in bringing vampires back around to center stage again.
So when a vampire flick shows up with a cast boasting Willem Dafoe and Ethan Hawke, I go see it without question. After an over-the-top opening where a young, goth vampire girl offs herself, the film moves along interestingly enough, for a while. Hawke's job (and hiding his true nature/identity) along with the brother dynamic are decidedly "Gattaca" inspired, though any comparisons end there. After that, both the story and the directing seem to go on shuffle as if a classroom of teenage boys all took their turns farting out different scenes and punching multiple genres.
Apparently the editors, Danny Cocaine and Johnny Ritalin couldn't quite make up their minds about what to cut, and ended up just cutting lines all over the continuity. You could house New York City's homeless population in the plot holes and missing locations. The now laughably over-used vampire shriek is so excessive in this collage of exploding bodies put to film that I am certain seeing this in a theater with a real sound system causes hearing damage. A Peter Jackson Nazgul sounds like Al Green next to these things.
At some point the Spierig's just start doing their best impersonation of Paul Verhoeven which culminates in one of the most jarheaded, stupidly hilarious scenes in the history of gore. Of course, Hawke and Dafoe are the only reason "Daybreakers" is even a film, but not even Dafoe's potentially funny Lionel 'Elvis' Cormac can rally this mess. At least an appropriate Elvis tune is included.

"Burning Love," Elvis Presley.