Falling in line with "The Company Men."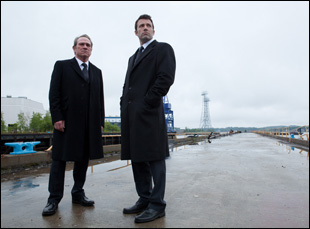 Posted by Bilge Ebiri on
Reviewed at the 2010 Sundance Film Festival.
While a variety of films from "Up in the Air" to "The International" have found an icy beauty in the clean lines and empty spaces of modern corporate life, there's a strange, quiet pall cast over the blank offices and boardrooms that make up the landscape of "The Company Men." That antiseptic aesthetic reaches into the narrative as well: Though writer/director John Wells' film is ostensibly about downsizing at a large, established shipbuilding company, there's nary a dinghy in sight. For all the talk of spot-welding and shipyards and hull assembly, all we really see are men and women in suits in large, chilly rooms with little ambient noise to keep them company.
That emptiness – of décor, of sound, of warmth — is but one of the reasons why "The Company Men" is such a distinctly uncomfortable movie, star-studded though it is. The other reason, of course, is that it's terrifyingly timely: Ben Affleck plays Bobby Walker, a hotshot exec who arrives at the office one day bragging about his golf game and leaves carrying a cardboard box full of his belongings. He is but one of the thousands of casualties of the latest wave of layoffs at GTX, a manufacturing giant now adrift in the new globalized economy. On the day of the firings, Bobby's boss Gene (Tommy Lee Jones) is out of town at a conference, unaware that thousands of his employees are being let go. Although Gene co-founded GTX with its CEO James Salinger (Craig T. Nelson), he's finding himself more and more out of the loop on key decisions, as the company sheds its humble manufacturing origins behind.
Along with Bobby and Gene, the film also follows Phil (Chris Cooper), Gene's friend and a veteran GTX employee who rose through the ranks and is now scared shitless for his own job security. Wells intercuts between the three men as they react in different ways to the crisis at work, and we may initially be alarmed that this will be another of those we're-all-connected movies. But it turns out this is actually a we're-not-very-well-connected-at-all movie instead, exploring all the ways in which work (and the lack of it) goes to the heart of one's being in America, ripping asunder human relationships. After laying into Salinger over the firings, Gene then turns around and introduces him at a Man of the Year award reception, with the words: "My friend, my college roommate, the best man at my wedding, and the worst tennis player I ever met. My boss, Jim Salinger." The way Jones emphasizes "boss" – defiant, accusatory, but also somehow proud – makes it clear that the word trumps everything else in his florid speech.
If "The Company Men" ever falters, it's when Wells tries to enliven the proceedings with the occasional ennobling cliché. When Bobby takes a job with his contractor brother-in-law (a great Kevin Costner), the film flirts with the kind of standard-issue working-class mythmaking so pandemic in American movies (and which Mike Judge's "Office Space" skewered so brilliantly with its "Fuckin. A." final scene). Luckily, it's just a tease: Wells pulls back at just the right moment, making it clear that Costner's character doesn't have it any easier than anyone else.
But still, one wonders if the director realizes just how dark his film really is. True, Bobby learns to appreciate the important things in life during his period of joblessness (and it helps that one of those important things is his lovely wife, played by Rosemarie DeWitt), but the desperation is still there. When he gets some promising news towards the end of the film (and I don't feel like I'm giving away too much to say that he does), we can't help but feel that it's only a matter of time before the brave new economy spits him back out. The existential gloom the film has charted never really dissipates. It feels a bit weird to call that a breath of fresh air in these days of artificial moral uplift, but, well, there it is.
"The Company Men" does not yet have U.S. distribution.