Clash of the Titans, horrible hard rock score, Muse.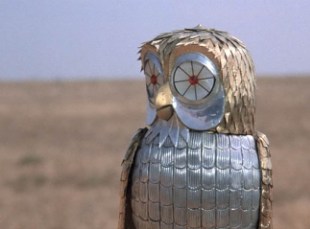 Posted by Brandon Kim on
The original 1981 "Clash of the Titans," was an authentic fantasy, what we used to call an epic adventure, before that word was mangled by leet teenagers on the internets. Though It employed stop motion, it still managed to dazzle with it's special effects at the time, especially where it combined techniques – as it did with Bubo, the mechanical replica of the Goddess Athena's owl (forged by Hephaestus for the hero Perseus).
The score by Laurence Rosenthal was one of those big adventure orchestrals that was marvelous at the time and kind of boring now. There was little or no Greek flair to it or any outstanding use of ancient woodwinds or lutes that I recall (I may be due for a full screening), but it served the mythological story well enough. That's more than I can say for what has been done so far for Louis Leterrier's remake due out in March. The "Incredible Hulk" director has teamed up again with composer Craig Armstrong and if the result is anything like that green lump of shit, it's going to stink.
The loud, and extremely lame, hard rock score to the trailer is a disaster, cheapening what could have been a really tough first peek of a great cast – Liam Neeson, Ralph Fiennes, Sam Worthington, Danny Huston, and Mads Mikkelsen ("Casino Royale's" Le Chiffre). I'm not yet sure what to make of the news that UK "alternative rockers" Muse may be doing the soundtrack.
"It's something we're up for doing – it's just a case of timing because we're always on tour," he said. "Clash Of The Titans is the first interesting offer we've had for film work. We're definitely interested in writing for films at some point when we get a break from being on the road."
Maybe they'll pull out something brilliant, it can't be worse than the dull, fratboy score that's already in the trailer. Note, one of the most lovable mechanical sidekicks in film history, Bubo (second only to R2D2) is conspicuously missing… maybe he boycotted this one.