Christopher Guest's new mockumentary will divide America.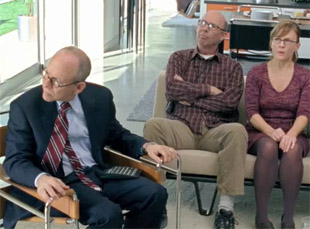 Posted by Vadim Rizov on
I felt bad for ignoring the Golden Globes once I found out the U.S. Census Bureau ran a commercial featuring the all-star likes of Bob Balaban and Ed Begley Jr., the first part of their effort to try and make sure people will fill out those damn forms. The puzzling commercial, it seems, is the opening salvo of a five-commercial campaign directed by Christopher Guest. This does not please me.
In writing this up, The Los Angeles Times' Dan Neil raises a number of cogent points. The main problem, as he points out, is that the spot in general does nothing to reach out to those reluctant to fill out the form in the first place: the illegal immigrants, the impoverished, the preternaturally suspicious. Per Jeff Tarakajian – the executive VP of the advertising agency in charge of the campaign — this leg of the census advertising blitz is to reach the 84% of Americans inclined to fill out the forms but who get lazy about it. "You've got to start with the base," he says. Specialized campaigns in 27 languages, a NASCAR sponsorship et al., will follow.
However, I have a whole other problem with the campaign: I don't think Christopher Guest is funny. Okay, so the Stonehenge bit in "This Is Spinal Tap" is a total winner, but "Best In Show" and "For Your Consideration" are two of the more excruciatingly non-hilarious comedies I've ever grinded my teeth through. And I know what you're going to say: "Dude, you've never seen 'Waiting For Guffman'? What the hell?" And I will someday, I swear — but even if it is, as I've been promised, his one true landmark, that wouldn't change my opinion of his body of work as a whole. Like, I love three Kurosawa movies out of the 16 I've seen; that doesn't mean I really like Kurosawa as a whole.
So even with Guest's extended three-minute mockumentary spoof that's currently on YouTube, I wasn't chuckling. Nor were many others, given its 2,000 views after 5 days, which is pretty pathetic for a national ad campaign. (They should've just had Star Wars Kitteh speak for the Census or something.)
But the ads' biggest stumbling block is the inherent irony of appealing to the American masses by showing how much Hollywood types are out of touch with Americans in such a way that it's almost meta. It's part of the genre of Hollywood spoofery that's supposed to be inside baseball, but uses such well-established tropes that it's toothless. Take for the example, the profile of fauxteur Payton Schlewitt (played by Begley Jr.), which throws around knee-slappers like "My favorite films are the films that I made. Probably because each is such an intensely personal statement. Especially the ones that grossed over $100 million." Even with Guest regulars like Jennifer Coolidge and Michael Hitchcock traipsing around, it's unlikely to appeal to anyone but angry conservatives whose worldview this seems to fit into nicely.
And don't worry, they're on it already: the comments streaming through the Times page largely resemble the sentiments of "AZ Resident," who posted "Protest illegal aliens in America….do not return your census form, do not answer questions if they come knocking. Every form not turned in negates the form sent in by an illegal alien. I know there's at least 20 – 25 people in my family who won't participate." Now let's see Guest make a comedy out of that.
[Photos: ad campaign screengrab; "For Your Consideration," Warner Independent Pictures, 2006.]