Charlie Chaplin's animated afterlife.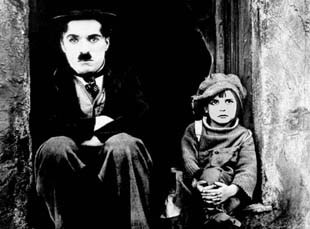 Posted by Vadim Rizov on
Even within his own lifetime, Charlie Chaplin's iconic presence went way beyond his personal control. There were imitators (one of which he sued) and rip-offs abroad in films like the intriguing-sounding 1924 Bulgarian comedy "Charlie Chaplin on Mount Vitosha," in which Vasil Bakardzhiev play "Charli Chaplin."
But Chaplin estate's been really good about protecting the prints and image of the man, keeping his memory well burnished. Until now? Today it was announced that Chaplin's going to be resurrected in CGI form by an Indian animation company.
The eight million euro project will consist of 104 six-minute shorts, which seems like more than enough faux-Chaplin to go around, and just an odd choice for children's entertainment. Though it's not like Chaplin is an unknown presence in Indian film: in November, Bollywood star Ranbir Kapoor incarnated the silent star in a comedy, and as far back as the '50s Indian actors were feeling his influence. Chaplin might be a little more enduringly popular in India than America.
A little crass? Maybe, but at least it's far short of the late Fred Astaire being used to hawk Dirt Devils. For sheer animated desecration, you really have to turn back to the '70s and the short-lived "Baggy Pants & the Nitwits." The character of "Baggy Pants" was totally Chaplin, reincarnated as a creepy cat with a mustache. Not only that, but he had the indignity of alternating segments with "The Nitwits," based on "Laugh-In" characters.
[Photo: "The Kid," Warner Home Video, 1921]