Triumph of the CG animated animal.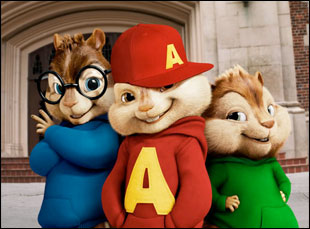 Posted by Vadim Rizov on
If you're working at Fox, you're probably feeling pretty good this week. The naysayers were wrong about "Avatar," which has cracked a billion dollars worldwide and shows no signs of slowing down. And "Alvin and the Chipmunks: The Squeakquel" performed just as expected — which would mean $256 million globally and counting.
And there's much more to come on the CGI-animals-adapted-from-comics/TV shows front: "Heathcliff" (Garfield's thinner but equally snide long-lost feline relative), "Marmaduke," "Yogi Bear." All of these adaptations have a few things in common. They come from low-rent, generally shoddy material whose franchise durability is impeccable. And they all involve (ostensibly) funny talking animals (except for "Heathcliff," who didn't talk until he hit TV).
The question is, when did this become standard and why? Once, your average cartoon-turned-movie stayed a cartoon. The wrangling of live-action animals wasn't an option — the gap between actuality and cutesy anthropomorphization was too wide too bridge — and CGI used to be quite expensive. Hence the low-rent "Garfield" show and TV specials and so on.
In that respect, it's safe to say that "Garfield: The Movie" was a trailblazer of sorts, proving few things were more reliable than an established animal character cracking wise in glorious full-fleshed life. The progress curve has been exponential since Disney touted 2000's enormously expensive "Dinosaur" as a landmark in integrating CGI creatures into the real world.
Now we have a new breed of movies — not precisely cheap, but easy enough to keep the costs down on. And it's the new, default face of children's entertainment, the new millennial equivalent of all those shoddy '70s Disney kiddie matinees.
We've come a long way baby. Let's not all cheer at once.
[Photos: "Alvin and the Chipmunks: The Squeakquel," Twentieth Century-Fox Film Corporation, 2009; "Garfield," 20th Century Fox, 2004]