Centers of their own universes.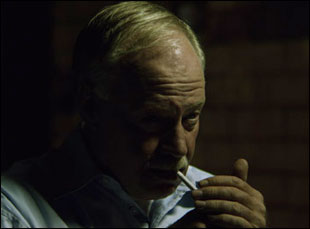 Posted by Vadim Rizov on
The recent docs "Collapse" and "The Carter" both struck me as informative while also showcasing some undernourished interviewing. In each film, we're presented with subjects — doomsayer Michael C. Ruppert and rapper Lil Wayne — whose views of the world can't be contended or shaken without the interview being over. In both films, we come out with a more revealing time-capsule for the future.
The problem here is one of cultural fragmentation. "The Carter" has been compared — by ye ed, among others — to "Don't Look Back," but the difference is huge. In "Don't Look Back," Bob Dylan is Artist Vs. Media, and Media is a monolithic, oppositional force. In "Collapse" and "The Carter," the subjects are convinced that anyone who isn't already on their side of the fence is the enemy, and that only one kind of interviewer is the right media.
In both cases, the interviewers aren't very good. In "Collapse," director Chris Smith asks the questions, and he runs around Michael Ruppert, never challenging his uniquely paranoid view of the world or his assertions that, say, Dick Cheney was personally monitoring his activities — a shame, because Ruppert's prognostications aren't necessarily that far off. Smith settles for a portrait rather than trying to tease out what actually makes sense in Ruppert's theories, making him just another crank.
In "The Carter," none of the questions asked of Wayne make much sense. They're not posed by the team making the film; they come from other media entities, hapless journalists blundering through sycophantic, inconclusive questions designed to lead neither one way nor the other.
In both cases, we've got two guys so firmly in the centers of their mental universes — one through a semi-logical, apocalyptic framework without any opposing coterie, the other through the warped perspective of drug abuse and immense commercial success — that challenging them wouldn't be "courageous" or "dialectical." It would just shut off access.
Is the non-interventional interview the future? The fragmentation of dialogue is the fragmentation of civility and of interviewing in good-faith. These days, it seems like increased signaling that you're from the same sub-culture and (at least) surface-level sycophancy are what it takes to get through an interview.
[Photos: "Collapse," Vitagraph Films, 2009; "The Carter," Virgil Films & Entertainment, 2009]