3D brings out the glory of "Cane Toads," warts and all.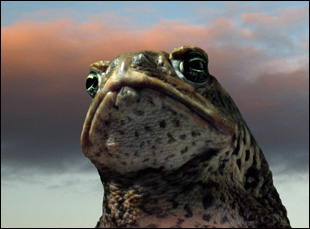 Posted by Sam Adams on
Reviewed at the 2010 Sundance Film Festival.
"Welcome to Avatoad," "Cane Toads: The Conquest" director Mark Lewis told the audience at Park City's Eccles Theater on Tuesday night, not only providing weary copy editors the world over with a readymade headline, but neatly summarizing the mild absurdity of the film's existence. A sequel to his delightful "Cane Toads: An Unnatural History," "Conquest" picks up the story 20 years later, chronicling the toads' alarmingly rapid spread along Australia's northern coast. The new movie, out of necessity, covers some of the same territory as the first: the toads' artificial introduction to the environment as a hoped-for hedge against the beetles preying on sugarcane crops; their utter failure to perform their assigned task; and their rapid-fire reproduction, growing from a population of just over a hundred to an estimated 1.5 billion over the course of seven decades. But "Conquest" adds the eye-popping enhancement of digital 3D, capturing the beauty of the Australian landscape in all its stereoscopic glory.
Lewis is well aware of the disparity between the brute naturalism of his subject and the cutting-edge technology of his methods. At times, the film almost plays as a joke on the faddish application of 3D technology to subjects where it adds little more than a marketing hook. The talking-head interviews with a variety of scientists, farmers and civic officials are staged with exaggerated depth of field: one subject is photographed in front of a looming wall of library books, another in the shadow of an enormous tractor. The movie makes extensive use of digital compositing, and other shots simply look as if they've been extensively worked over in post, their colors popping unnaturally.
"Conquest"'s stylized reenactments, in one case recounting a pet dog's brush with death after chomping down on a toxic toad, are filmed with a visual panache that would make Errol Morris sit up and take notice. But the movie's overreliance on effects sabotages the feeling of connection to the natural world. It's hard to forge a connection to Lewis' "little toad friends" when even the shots that purport to depict them in their natural environment seem as if they might be staged. Every time a toad hops across the screen, you wonder if there's a pair of hands just out of frame, releasing the warty creature on cue.
"Cane Toads: The Conquest" does not yet have U.S. distribution.
[Photos: "Cane Toads: The Conquest," Radio Pictures, 2010]