"Avatar"'s first step toward cable rerun purgatory.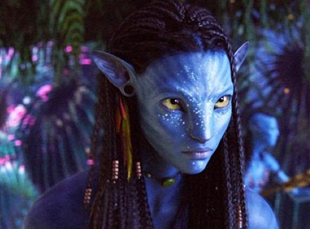 Posted by Vadim Rizov on
First, there was "Avatar," the unmissable cinematic spectacle audiences are actually willing to wait to see in 3D-enabled cinemas.
Then there were the jokes about bootlegging it.
Then there were actual bootlegs and, finally, the negotiations for cable rights.
"'Avatar' has amazing FX — and it soon could be aring [sic] on FX. The cable network, that is," writes a breathless Josef Adalian at The Wrap. Well, sure — FX will have a leg up on the bid price since it's also under the Fox corporate umbrella, the cost will probably be a hefty $30 million, it could very well be aired on TV in 3D, and on, and on.
Even the movie that's changing cinema forever or whatever must, sooner or later, make its way to its eternal basic cable resting place. The action movie still doesn't get to be called "art" by most, though these days it's taken more seriously than, say, in the '70s, when taut genre exercises everyone swoons over now were just written off as violent B-movie trash.
There are all kinds of late-night movies that gain ubiquity and some kind of cultural power through sheer repetition: bad '80s films bought cheap, long-forgotten romcoms, sci-fi non-staples. But by far the saddest is the event-y action film that was once blasted large and loud over 10 out of the 12 screens at your local multiplex, licensed at great expense, "premiered" in edited-for-content-and-to-fit-the-screen form and then slowly slinking into mundaneness. Suddenly it's 3am and you're watching Dolph Lundgren fight anonymous Slavic people.
Right now "Avatar" is king of the world. But in five or seven years, its gleam will be gone, and it'll be just another insomniac staple, airtime filler, running in inescapable loops through the night, bracketed by shabby local advertising. And to think of that's a little sad, because the best action movies are as valuable as anything else, but eventually TV airings turn everything into explosions punctuated with dialogue made for channel-surfing.
[Photos: "Avatar," 20th Century Fox, 2009]