Blind Man's Colour, Kanye digs that shit.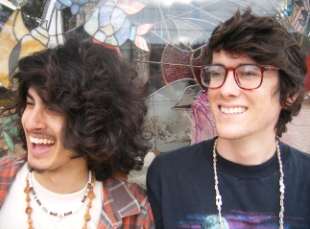 Posted by Brandon Kim on
Blind Man's Colour is the name of the psychetropical tape music fantasy band that two 19 year old's from Florida started in their bedrooms – you know how it is. Kyle Wyss and Orhan Chettri then participated in a fan based Animal Collective cover album (called Collected Animals) and got themselves some attention.
[Orhan Chettri and Kyle Wyss of Blind Man's Colour. Photo by Evan Wyss.
Very soon a variety of people were blogging about them including Kanye West who got somewhat inexplicably fired up with a post entitled SOME DOPE SHIT FOR MY APARTMENT!!, all two exclamation points and shit. I still don't know if he's talking more about the flying Brontosaurus artwork or the music, but clearly he dug both. So say we all.
Blind Man's Colour, now signed to Brooklyn's Kanine records, has a forthcoming EP to follow up on their debut, Season Dreaming. It was recorded entirely on a 4 track with guitars and bells and weird things. It's jangly and quick footed in your treetops. It's skinny blue and warm in your waters. It's called Wooden Blankets and it's out Feb 23rd.
Blind Man's Colour on digital or vinyl available from Kanine.