Best soundtracks of the decade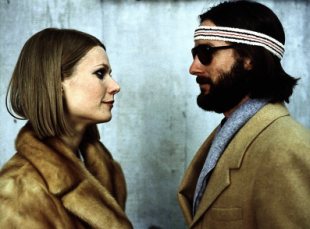 Posted by Brandon Kim on
This past decade has been awash in both great and terrible soundtracks, with a preponderance of directors who have great musical taste but often apply it too liberally to their films. The music video, long fallen from prominence on TV, seems to have found it's place on the big screen, with scenes written around songs now part of a formula. This isn't always a bad thing, and some of the finest moments in film cannot be separated from the songs that accompany them. Some even become forever inseparable.
The more gratuitous examples are tiresome, even offensive. Some directors don't know how to build a scene or earn the right to employ the song — they just slap it in there because it seems cool. In many cases the indispensable music supervisor did it for them. A best of list for the decade is sure to include some of these lesser moments but I've assembled a list of films whose soundtracks have risen above the pack. Keep in mind, this is not about films scores which is another beast entirely.
1. "The Royal Tenenbaums" (2001)
I often think of Wes Anderson as the biggest asshole I've never met. Film after film, he (along with his music supe Randall Poster) selfishly claims more of the best songs ever written as his own. There they are, burned forever into his films, greats by The Rolling Stones, Nico, Bob Dylan, Paul Simon, The Velvet Underground. He's often the first to use them and, even when someone already has, he tends to do it better. Genius you can be jealous of. I've grown a bit tired of the constant song barrage he employs but glance back with me to "The Royal Tenenbaums," before all was overplayed out. That moment with Margot coming off the bus… it still almost makes me weep, it's so beautiful. Elliot Smith too.
2. "Adventureland" (2009)
Greg Mottola's '80s amusement park/graduate love story has not yet had the chance to stand the test of time, but it will. Hands down the best soundtrack of 2009 and possibly the best use of The Velvet Underground in the history of film. Even Falco's "Rock Me Amadeus" was a good time.
3. "Children of Men" (2006)
It's hard to stand back and separate a great soundtrack from a great film, and it may be that this is so high on the list because I'm swayed by the quality of Alfonso Cuarón's filmmaking, Michael Caine and Deep Purple. Add some Donovan, Radiohead, Lennon, that wispy Franco Battiato "Ruby Tuesday" cover and King Crimson and I think you have one of the most bad-ass soundtracks of the Naughts.
4. "Breakfast on Pluto" (2005)
I was so smitten with Kitten that I had to check myself when I left the theater after seeing this Neil Jordan fun fest. You know, whistle at a couple broads on the street on my way to give my girlfriend a pearl necklace. I was even more impressed with the songcraft of Harry Nilsson, Dusty Springfield and T-Rex. Not the first time, "Children of the Revolution" was employed (see "Billy Elliot" and "Dogtown and Z-Boys"), but it was tough as nails — painted ones of course.
5. "24 Hour Party People" (2002)
If you're a huge Joy Division fan (I am) or lover of New Order (less so) you might have had to see this film multiple times. It doesn't necessarily live or die as a film because of the bands — it's a great story about a moment in time in Manchester, and Steve Coogan is particularly hilarious — but the bands are why this soundtrack kicks ass.
6. "High Fidelity" (2000)
If only we still had the mix tape. John Cusack's damaged record store owner was a dying breed then and only a memory now. This film, while lacking some of the flavor of the book, makes up for it in the music. Love, Smog, 13th Floor Elevators, The Velvet Underground, Stereolab, even the now forgotten Beta Band.
7. "Almost famous" (2000)
Cameron Crowe's semi-autobiographical fantasy about his experience as a teenage writer for Rolling Stone is pretty much mandatory for this list. Whatever you think of the film now, the soundtrack brilliantly captured the sound and feeling of the zany trip everyone was on in the early '70s. Remember the fun/lame Elton John sing along? Cat Stevens, Led Zeppelin, Simon and Garfunkel's "America" seals it.
8. "Juno" (2007)
Dominated by Kimya Dawson/The Moldy Peaches, this soundtrack still has some variety in Astrud Gilberto, The Kinks and Sonic Youth. What's more, Michael Cera and Ellen Page's cover of "Anyone Else But You" is entirely endearing.
9. "Hedwig and the Angry Inch" (2001)
I would never have thought I'd be so pleased with a musical film about an East German transgendered Bowie wannabe (who lost his johnson) on tour with his weird glam band. Composer Stephen Trask wrote all the songs for the stage musical on which the film is based, and likewise the soundtrack is all Trask (aside from a bit of "Walk on the Wild Side," there's little other music in the film). I never got so fired up about it that I bought the soundtrack, but the achievement and execution deserves serious recognition.
10 / 0. "Watchmen" (2009)
Lastly, Zack Snyder's Watchmen deserves some special top ten consideration. Think of this less as number 10 and maybe more number 0. It's rare that a film employs a repertoire of such weighty songs and so many of them so badly. Snyder doesn't earn half of the songs he uses — "The Sound of Silence," are you kidding me? — and he basically rapes Leonard Cohen's "Hallelujah." As confounding and tasteless as it is used, the soundtrack alone is fantastic. The Phillip Glass song worked wonders and the revisionist history opening credits, set to "The Times They Are A-Changin," are magic.