When did B-movies go from bloody to bloodless?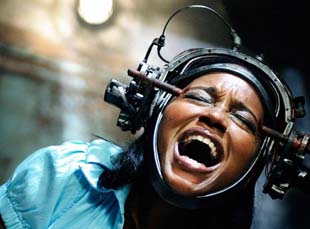 Posted by Vadim Rizov on
Having decided that a divide-and-conquer strategy is for wusses, there's a rather sordid and protracted battle going on between Paramount and Lionsgate right now, with the studios poised for a "Paranormal Activity 2" vs. "Saw VII" face-off on October 22nd. Lionsgate decided to get evil on Paramount's upstart franchise by exercising an option they had on "Saw VI" director Kevin Greutert — who recently signed on for the "Paranormal" sequel – to bring him back for another round, apparently trying to delay "Activity 2." (Greutert took to his blog to complain, but has since removed the post.)
It's all very cheap and petty, but aside from being a tacit admission from Lionsgate that it doesn't really matter who makes the "Saw" movies (which we pretty much knew already), it reminds me of something different. Where are our great B-movie directors, the ones ready to use small budgets and freedom within certain genre requirements to up the artistic ante and rise up? Put another way, why haven't any of the "Saw" directors graduated to bigger and better things?
Forget the precedent of, say, John Carpenter and Wes Craven in the '70s; they had their own visions that took independent financing. For studio interference, you'd have to look instead to their successors, the people who took up the franchise and occasionally made something of it. Granted, to advance this argument I'd have to champion some rather questionable people. Even then, I could claim with a straight face that, in my opinion, "A Nightmare On Elm Street 4: The Dream Master" is a terrific early movie by the occasionally brilliant Renny Harlin, and that there's a few minutes in there more chilling and genuinely Lynchian than anything in "Inland Empire." I could also point out that at least two screenwriters who made something out of themselves — "L.A. Confidential" scribe Brian Helgeland and Frank Darabont — did time on that series.
Now, that's not a perfect record (and it goes downhill from there if you look at, say, who worked on "Friday the 13th" and the "Halloween" sequels) — but it's a little something beyond the usual list of people who cranked out the hits for Roger Corman before blossoming out, and more than any of the "Saw" people have accomplished. Lionsgate tends to keep them in-house, working on similarly wretched projects ("Repo! The Genetic Opera" and the like), which I suppose pay well enough.
What's interesting here, though, is the general winnowing down of what the B-movie can be. People are routinely championing B-movies from the '40s through '70s as lost classics of economy and pungency, and not just the horror films, whose reputation has risen as a whole. There's noir, '70s action (e.g. John Flynn, director of the smart and taut "Rolling Thunder," a movie Tarantino wisely named one of his companies after), the reevaluation of '70s slasher movies in search of lost gems (like the elevation in status of "Black Christmas"), et al.
A weird thing happened as you cross into the '80s: the options for true B-movies got smaller and smaller. If there's any movies from there onwards reviled at the time and subsequently reclaimed, I haven't heard about it: successors to '70s horror fare like "The Evil Dead" and "Re-Animator" were instantly embraced and deified by the appropriate fanbases. And in that budgetary realm, all that was left was the horror stuff: all other B-movie genres pretty much folded or becoming much more expensive homages.
And if it's a truism that most blockbusters are just B-movies with A-movie budgets, there are a few true B-movies (modestly budgeted studio films, in other words) that tend to get championed by critics overeager not to miss anything that boasts those old Hollywood virtues of "craftsmanship" and "efficiency." Two I remember: 2004's "Cellular," which Dana Stevens deemed "an honest, unpretentious, well-made B-picture." These are standard terms of praise, the same way a movie Manohla Dargis likes might be "elliptical," "rapturous," "lyrical" etc. Another one was last year's "Armored," which Mark Asch also praised for its — surprise! — "honest B-movie craftsmanship."
Although I wasn't taken with either of those films, there's definitely a hunger for contemporary non-horror B-movies — spry, taut, small-scale but well-filmed action sequences — that's not being fed, so critics have to dig deep. If I were to pick a best one of the recent lot, I'd go with Wes Craven's 2005 "Red Eye," which was just short enough (85 minutes with credits!) and effectively had the malevolent Cillian Murphy rightly tormenting the deeply annoying Rachel McAdams. And to make an efficient B-movie in the new millennium it takes…a guy who was doing that 30 years ago.
[Photos: "Saw VI," 2009, Lionsgate; "Armored," 2009, Screen Gems.]