"A Prophet (Un prophète)," Alexandre Desplat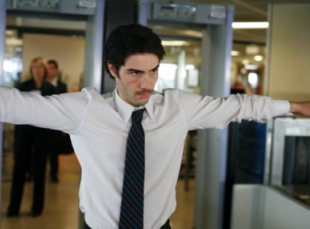 Posted by Brandon Kim on
Writer/director Jacques Audiard's "A Prophet," is a gangster film. It tells the story of young Malik, half-Corsican, half-Arab, sentenced to a prison where battle lines have been drawn between condemned ethnic factions. Audiard's 5th film, it won the 2009 Grand Prix at Cannes, and has him teamed up again with composer Alexandre Desplat – who has recently become hot shit in Hollywood scoring the likes of "Julie & Julia," "The Curious Case of Benjamin Button," and "New Moon."
[Tahar Rahim as Malik. Photo by Roger Arpajou © 2008, Courtesy of Sony Pictures Classics]
Audiard and Desplat's, 2005's "The Beat That My Heart Skipped" is a great film (about a romantic thug-turned-pianist) and another collaboration has been long overdue. Incidentally, I became a great fan of that film's star, Romain Duris, when he apparently never came to pick up a pair of fine white trousers he'd put on hold at a Marc Jacobs I used to frequent. I happily took the pants at a discount – we're the same size you know. They're my favorite.
I got my hands on a Cue Sheet for "A Prophet's" trailer and can tell you that the jangly, good time song is "Corner of My Room" by Turner Cody. It's tremendously well used, juxtaposed with two snippets of Desplat's weighty and foreboding score (one at the opening, one after the gunshot). This tells me two things: The music is in the hands of artists, and this film is going to be really good, if somewhat grim.

"A Prophet" opens February 12th.