Doing a jig on Variety's grave.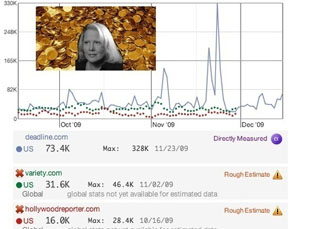 Posted by Vadim Rizov on
type="text/javascript"
src="http://tweetmeme.com/i/scripts/button.js">With print journalism suffering, layoffs abounding… yeah, you know this story. Film trade Variety is now behind a slowly mounting paywall, while its rival the Hollywood Reporter got sold. It's grim out there for print entertainment journalism and news right now.
It fell, therefore, to industry blogger Nikki Finke to dance all over their graves in her usual restrained, graceful manner.
The headline speaks for itself: "MMC News Release: Deadline/Hollywood Now Has Larger Readership Than Variety And The Hollywood Reporter Combined."
This tells us two things: One, that Finke has zero shame about posting press releases on her website, which isn't surprising — what she reports on is never the real subject; it's her fireball take that is. Two: at this particular historical moment (the traffic numbers in question deal with November), Finke is the go-to entertainment biz news source, eclipsing those venerable trades singlehandedly. (Or so she'd have us think.)
Let's assume the numbers are basically true and verifiable (if only because I don't feel like getting angry e-mails on the subject, despite their shakiness). And let's also assume that Variety might die someday, though it's kind of unthinkable to me, like trying to conceive of what Queen Victoria's death in 1890 must have been like. Well, then what would life look like in Finke's universe?
It would suck. The most valuable stuff about Variety has jack to do with entertainment news. What Variety does have is something Finke has zero interest in: reviews, and quite comprehensive ones at that. While they're not generally to my taste, you can read enough of them to know where they're coming from and adjust your barometer accordingly. They're all over the festival circuit, giving at least a cursory paragraph to pretty much anything that's played more than two fests, an invaluable reference.
That's what gets lost in the Finke universe of "TOLDJA" and up-to-the-minute blow-by-blows of the life of the industry "buttboys." It doesn't seem to bother her one bit that everything she writes is dead in a week and that not a single thing she's written could be anthologized in a decade, much less a year. And that's fine, Hollywood folks need their industry gossip fix as much as anyone. But let's not pretend that it would be okay if Finke somehow supplanted the publications she claims to have changed the paradigm on.
You know what the triumph of "New Media" looks like? It looks like this.