"Up In The Air": pundits love it!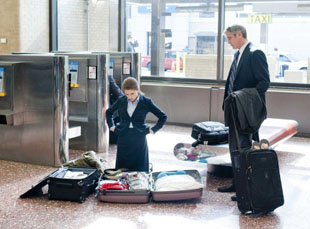 Posted by Vadim Rizov on
From time to time, political pundits feel the need to take on an Important Movie. (They never seem to go digging through genre releases for hidden messages, though I'd give a lot to read, say, Thomas Friedman explaining how "Ninja Assassin" validates "glocalization" or whatever with its leveraging of Korean stars, Japanese history and American money.)
The film of choice this season is Jason Reitman's "Up In The Air," which recently became the target of competing op-eds a week apart from different sides of the political aisle. Liberal Frank Rich went first last weekend in the New York Times, followed this weekend by George F. Will in the Washington Post.
Both love the movie, because both believe it confirms the way they see the world (which really speaks — like "Juno" — to how watery Jason Reitman's vision is).
In his piece, Rich notes early on that it's "not a political movie," and that it "won't be mistaken for either a Michael Moore or Ayn Rand polemic on capitalism." Instead, it's about an entirely non-political subject, "an America whose battered inhabitants realize that the economic deck is stacked against them, gamed by distant, powerful figures they can't see or know." So, yes, not political in the slightest.
He proposes that the folks who got us into the recession "never saw the workers whose jobs were shredded by their cunning games of financial looting" and therefore we live in "two Americas" — "corporate culture" and "the rest of us," which seems a bit simple-minded (as is the implicit suggestion that if only they saw what they were doing, we'd all be living in a paradise of responsibly self-regulating and non-rapacious capitalism). Oh, and "the fate of Americans on the ground remains very much up in the air." (Emphasis mine.) Come write for a blog! We love that kind of stuff.
Will's appraisal is half summary (literally: the first page out of two), and he thinks the opening version of "This Land Is Your Land" is "weird": "this hymn to Depression-era radicalism is catnip for people eager to tickle a political manifesto from any movie that has a contemporary social setting" (as opposed to, I suppose, a contemporary setting whose social mores are taken from the Edwardian era).
But he concludes the movie is not about the recession (because the novel was written before it) but instead indicts "a welfare state that siphons increasing amounts of wealth from the economy to give to the elderly. Having willed this end, America must will the means to it — sometimes severe economic efficiency to generate revenue to finance the entitlement culture. " Unchecked capitalism is the fault of Medicare! Also, this "is sobering entertainment for a nation contemplating a giant addition to the entitlement menu." "Up In The Air" is actually about how health care reform is bad!
These piece are certainly no more painful than, say, Armond White's experiments in neo-con reviewing masquerading as disinterested artistic shot-calling, or Jonathan Rosenbaum saying "Bobby" is better than "Nashville" because it's less cynical. If anything, pundits seem more tentative in their political readings of films than film critics, who are often inclined to baldly assigning political values and worths to their subjects.
But in the end, neither of these readings are convincing: they just endorse the film as a talking point for (let's face it) elitist-esque columnists, fodder to be plugged into the weekly agenda as another example, which is somehow the dullest way to talk about movies.
This is why I don't read op-eds. Seriously.
[Photos: "Up In The Air," Paramount, 2009]