Tim Rutili Makes the Indie Rock to Indie Film Leap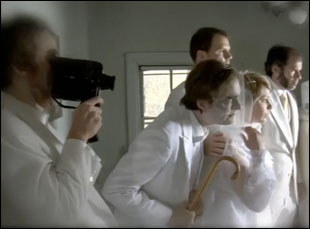 Posted by Brandon Kim on
Tim Rutili's band, Califone, may be at the peak of its powers on its recent album "All My Friends Are Funeral Singers" and, song after song, show no signs of waning. What's more, Rutili, as a director, has leveraged Califone's songcraft into a feature film of the same name that will premiere this January in a little town called Park City. It's the product of Rutili's decidedly cinematic songwriting process and love for surrealist films and the likes of Luis Buñuel.
In the movie, a fortune teller played by Angela Bettis ("May") lives in an old house crowded with ghosts. When a light appears in the woods outside, the ghosts realize they are trapped, and insanity ensues, all to a score and soundtrack by, of course, Califone. I caught Rutili on the phone before we had the good news about Sundance. He was driving cross country in a remarkably quiet car, headed toward the Southwest, already doing research for his next film — a "road movie," of which he gave me a little hint. I got a bigger hint of "All My Friends Are Funeral Singers" — an exclusive clip from the film is below.
I know you've made some shorts before, but this is your first feature… how long has it been brewing?
Not very long. I started writing last September, so basically a year from starting the script to finishing the film. I'm hearing from friends who make films that isn't usually the case, so we got lucky. We have to do some more soundtrack work, but other than that — it's done.
In the clip, the camera moves from a scene through someone's ear into another scene with a stuttering old man. Maybe I'm a mean ageist, and I don't know where it fits in, but I thought it was hysterical.
That doesn't fit in at all. We have a couple other scenes where the camera goes into people's ears and you get this non sequitur of what's happening in their, you know, ghost brain. It's just fucked up — all those things were just making us laugh. We had some footage of that old guy performing…
Wait a minute — that wasn't really an old guy though? Was it!?
For the sake of interview, yeah, it was. The guy that does it won't acknowledge to any of us that it's a character. He would get mad.
It had a real David Lynch feel for me. Not just the insanity, but specifically the ear tunnel transition shot — I've seen him make similar moves. Is that something you drew upon?
I love David Lynch. The only thing that came from him out of this is the idea that things don't have to make sense, and you don't have to really explain yourself [laughs]. That scene is a perfect example of that.
There's also the song "Buñuel" on the record, about the surrealist filmmaker. Have you been studying him?
I was watching his movies a lot, and I wrote that song in front of one of his films. We have a character in the film named Bunuel, too. He doesn't play a Spanish filmmaker, just a guy named Bunuel with a Super 8 camera. We ended up putting film in the camera and using a lot of what he shot. So there was a camera within the scene.
There were some things I wanted to feel like [Buñuel] — "Exterminating Angel," his film where people are trapped in this dinner party. As it goes on, the people cannot get out of the house. There's nothing keeping them there, they just can't leave. What happens when you get a bunch of rich people at a dinner party that can't leave for days on end? It's weird as fuck, and there are these things that happen that are so beautiful. In one scene, out of nowhere, a bear crosses in the background. A woman opens her purse and she's looking through it and pulls out a dead bird. You don't know why, but its happening and there's no reason, but it's beautiful.