The Swell Season – "Low Rising," directed by Sam Beam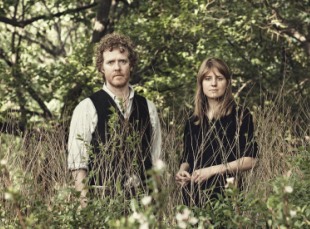 Posted by Brandon Kim on
If Glen Hansard and Marketa Irglova had emerged a bit earlier in the 00's, I think they'd be eligible for feel good couple of the decade. I touched on their band Swell Season back in September when their single, "Low Rising" came out. And that was after a couple Grammy wins and an Oscar win for Best Original Song, "Falling Slowly" for the indie film, "Once," in which they also starred.
This video for "Low Rising" seals it. An adorable and not too gushy take on the doldrums of modern relationships, the veils that dampen them, and how there's no further for us to fall. It's made all the more endearing when you know that Hansard and Irglova didn't just play lovers in "Once," but really fell for each other, then broke up, and in true "Low Rising" form, sat each other down and made this record together. They remain a platonic pair as far as I know.
We could all vom at how cute it is I'm sure, but their sincerity wins out. So does the quality of the music, though I wasn't a big fan of the dramatic Oscar winner. Director Sam Beam's vision of little personal downpours is a quality to match. You might know Beam better from his band, Iron and Wine, whose videos he's also directed. They are immensely popular among young American ladies and the potential crowd crossover between the two groups is apparent. Kristen Stewart likes them and tween vampire movies or no, she's the bees knees. Did you know she picked the Iron and Wine song herself for the big scene in "Twilight?"
Swoon over this video for "Low Rising" and if you can't get enough check out Glen and Marketa do their Fleetwood Mac bit here with the most battle worn acoustic guitar in this realm of folk rock.