Why "The Hurt Locker" isn't hurting for awards.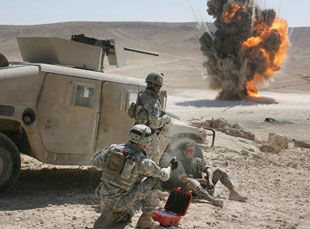 Posted by Vadim Rizov on
Our long, slow death march through awards season continues with this morning's Golden Globe nominations, which delivered nothing unexpected. All our familiar friends — "Precious," "Up In The Air," Jeff Bridges, Christoph Waltz et al. — are present and accounted for.
Notable "snubs" (I suppose) include not nominating Lee Daniels, Carey Milligan for her much-praised turn in "An Education," and, uh, Abbie Cornish for "Bright Star" (that last one's kind of a stretch, but I guess some people believe anything).
The biggest snub, though, is Jeremy Renner for "The Hurt Locker," which otherwise got the three big nominations it needs to keep it moving through trophy season: Best Picture/Director/Screenplay. Odd, since it was agreed upon in pretty much every review that Renner gave a break-out turn as Sergeant First Class William James, expert bomb defuser and rock star of the battlefield. And Renner is, indeed, excellent: innocuous-looking but freakishly relaxed in the tensest of situations, taut when it's unnecessary.
But what is it with this movie and its near-universal critical acclaim? (Check out this awards scoreboard, in which its status as critics' circle darling is fleshed out.) It's one compulsively entertaining and watchable film, but — at least from where I'm sitting — it has some serious, far from negligible missteps, most notably (MAJOR SPOILERS) a willingness to not just kill kids for gut-level impact but to do so in the most graphic way possible, not to mention Renner's abysmal, unsalvagable final monologue — delivered to a baby, no less — where he explains exactly what he's about, making the perfectly obvious explicit. He likes adrenaline! He likes thrills!
Admittedly, I'm way in the critical minority here, and "Hurt Locker"'s highbrow/middlebrow critical consensus has been remarkable and overwhelming. It's striking that many of the high-profile reviews — David Denby, Scott Foundas, Lisa Schwarzbaum, A.O. Scott, Kenneth Turan — all insisted rather over-loudly on two key points:
One: This is a kick-ass action movie you should see for the visceral thrills as much as anything else ("If 'The Hurt Locker' is not the best action movie of the summer, I'll blow up my car." — A.O. Scott).
Two: This is the best film about the war in Iraq yet ("will be studied twenty years from now when people want to understand something of what happened to American soldiers in Iraq" —David Denby), which means it's the first good one of the bunch, so you shouldn't be wary of seeing it.
There was also an insistence that the film was both non-ideological while somehow giving the "truth" about the war and — more compellingly — many, many commendations of Bigelow for delivering a spatially coherent action movie that didn't go all cubist-blender-Michael Bay and stuff.
My thinking isn't that the impeccable action groove validated endorsing an Iraq film, finally, but rather the other way around: grave subject matter elevated the lowly action movie to critical godhood. Critics love to give lip service to well-crafted action movies, but they can rarely place them at the top of their lists: there's a mental block there leftover from the '50s or something.
"The Hurt Locker" is action par excellence, but it's Iraq action, which has safely brought it to the critical forefront. Personally, I think "Near Dark" is better, but it's about vampires. This is about The War We're In — it's an action movie you don't have to feel guilty for thinking is the best of the year. Whatever. If this is what awards bait looks like in 2009, I can totally live with that.
[Photos: "The Hurt Locker," Summit Entertainment, 2009]