The ten worst movie moments in 2009.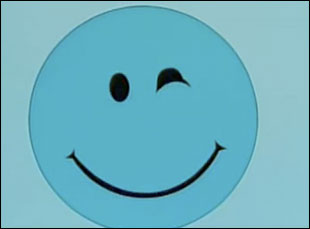 Posted by Vadim Rizov on
When I'm not blogging, I'm often out seeing the very worst contemporary film has to offer in the name of film criticism. As the year comes to a close, here's my gift to you, dear reader: ten of the worst moments in ten of the worst films I saw this year. Because life can't always be positive.
1. Smiley face, "Obsessed"
Steve Shill's deliriously trashy stalker-white-bitch-fights-Beyoncé-over-Stringer Bell opus earned every penny of its domestic $68 billion haul, if only for confirming that Beyoncé isn't just capable of dancing in five-inch heels but can win a catfight in them too. For sheer howling stupidity, though, nothing in this formidable avalanche tops the moment where Ali Larter's obsessed stalker sends Idris Elba an e-mail of a gigantic smiley face. The camera zooms in ominously as evil music plays, and then, in a moment that I presume is supposed to be the equivalent of Michael Myers jumping out with a knife, it winks. Chilling!
2. "Typical Jewish trick," "12"
I walked into Nikita Mikhalkov's Russian remake of "12 Angry Men" hoping to see something crassly insensitive, authoritarian and racist — something true to my ethnic heritage, in other words — and it didn't disappoint. About 40 minutes in, as the jurors are hashing out the case and one man starts advancing a claim of innocence, another snaps "Typical Jewish trick!" Mikhalkov, of course, would claim he's trying to diagnose and cure Russia's ills — anti-Semitism being one of the most common and infamous — rather than endorse them. Then again, his film is an unsubtle commercial for authoritarian Putin rule from a man who proudly notes in his biography that his father wrote the Soviet national anthem. We all have issues, I guess.
3. Halo, "I Hope They Serve Beer In Hell"
This long-gestating self-penned ode to the life, times, wit and wisdom of Tucker Max was less offensive than boring, because it doesn't have the courage to follow through on all of Max's written beliefs. However, Max's fictional friend Drew (Jesse Bradford), a bitter wounded nerd who channels all of his aggression into "Halo," did manage to rise above the dullness. When he bonds with a stripper and learns to respect her because she kicks his ass at "Halo," it occurred to me that maybe a thousand whiny Judd Apatow critics complaining about how there's no men out there anymore, just overgrown boys, just might have a point.
4. Underwear, "I Love You, Beth Cooper"
Chris Columbus' underanticipated return to the realm of straight comedy was so interminable it's tempting to throw the whole thing on here as one eternal moment that just goes on and on. For brevity's sake, though, let's settle on the scene when nerdy Denis Cooverman (Paul Rust) — for complicated reasons — is in a car with titular crush Beth (Hayden Panettiere) and she slams the breaks, causing his head to fall onto her thighs with a crotch-eye view of her underwear, which say something like "Hello." At this moment — and no earlier — does he realize she's not a sweet, innocent 18-year-old, but actually kind of slutty and therefore not worthy of his pure love. He gets over it, but seriously? He should be grateful.
5. The fire, "Jennifer's Body"
All of Diablo Cody's whiffed "Juno" follow-up is atrocious; my friend Matt Noller described it as "Like looking into the face of evil." He wasn't being that hyperbolic — and nothing was worse than the moment where an "indie band" ("crappier Killers rip-off with make-up" isn't actually "indie," but let's let that go) has a club inexplicably catch fire as they start playing. Just before the fire, Jennifer (Megan Fox) downs a red-white-and-blue drink that's supposed to be a Twin Towers joke, and the fire is a direct reference to the Great White tragedy, where 100 people died in a pyrotechnics-induced concert inferno. "Jennifer's Body" has no idea what to do with these awful events; it just uses them for a couple of allegedly "irreverent" jokes without a point or real punchline, collapsing under the weight of its own fecklessness.
6. Roses, "Not Easily Broken"
This Bill Duke dramedy is a tepid and much more ponderously pious version of the kind of religious black-oriented melodrama in which Tyler Perry specializes. The big dilemma here is if frustrated husband Dave Johnson (Morris Chestnut) will cheat on wife Clarice (Taraji P. Henson) with (white girl!) Julie Sawyer (Maeve Quinlan). [SPOILER ALERT] In what has to be the mildest case of having "committed adultery in my heart" since Jimmy Carter gave us that invaluable phrase, Dave almost — almost — kisses Julie before realizing it's wrong, God is angry and heading home. It's an awfully wussy cop-out for a movie that shamelessly rips "American Beauty"'s lustful dream sequences, falling rose petals and all. Where's Mena Suvari when you need her?
7. The stoning of Soraya M., "The Stoning of Soraya M."
This movie was made with faultless intentions: writer/director Cyrus Nowrasteh wanted to draw to the attention of the ignorant that sharia law means women are still getting stoned to death in Iran. Unfortunately, he made a terrible, torpid movie, and the audience for this kind of thing is pretty self-selecting and already informed. In return for reviewing it and pointing out that the climactic stoning was quite a bit like the arrow-cam in "Robin Hood: Prince of Thieves" — plus, said sequence goes on forever, like a cut-rate "The Passion of the Christ" — I was accused by a Canadian conservative alt-weekly of caring about "more vital stuff, like agitating for Leonard Peltier." Again, please?
8. Modern ladder romance, "What Goes Up"
This ill-promoted Steve Coogan/Hilary Duff romance (you read that right) made my head hurt more than anything else this year, thanks to an editing scheme so incoherent and jumbled it was nearly as cubist Duchamp's "Nude Descending a Staircase." Even if the damn thing made spatial-temporal sense, though, nothing could've warrant the sight of Coogan, as a horny journalist, remembering "Romeo and Juliet" references from earlier in the movie and grabbing a ladder, from which to woo Duff. They don't consummate this relationship, thank god, but that image alone could send anyone off to a night of drinking.
9. Infusing the souls, "9"
A fraternity friend once told me one of the hazing rituals was locking the inductee in a closet and playing "Purple Haze" at full blast for seven hours; I imagine it felt something like painful, incoherent mish-mash of half-digested "1984" and OMG ROBOTS ATTACKING. But even worse than the sound and the fury was the part where we learn [SPOILERS] that our doll heroes were created by the scientist who invented the killer machines, and who gave them life by breathing his soul into them. Color me metaphysically skeptical.
10. Shit-smear, "Miss March"
A tedious compendium of breasts, dick jokes, men jabbing their girlfriends with forks after they bite down on their dicks during a strobe-light induced epileptic seizure, and so forth, this comedy is, as audiences seemed to sense, a chore. But the standout bit is the recurring gag of what happens when Eugene Bell (Zach Cregger), fresh out of a coma, gets too excited: a big ol' stream of shit exits his body. This happens fairly regularly, and it looks disgustingly accurate. And isn't funny.
[Photos: "Obsessed," Screen Gems, 2009; "I Hope They Serve Beer in Hell," Freestyle Releasing, 2009; "Not Easily Broken," Screen Gems, 2009]