What year did they invent politics again?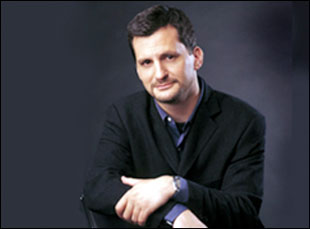 Posted by Vadim Rizov on
Yesterday I was mugged. After spending the day waiting at police stations and banks, I finally ended up back at home, dispirited and having been away from you, gentle reader, for far too long. I fired up all the blogs I would've normally gone through hours ago, and instantly, there was balm for my weary soul. Big Hollywood gifted me with one last inane faux-controversy to end the year, about one of my least favorite people.
"Will Ben Mankiewicz Be Allowed to Destroy Turner Classic Movies?" the headline screamed. This would be the same Mankiewicz who, til of late, co-hosted the failed post-Ebert "At the Movies" alongside the feckless Ben Lyons. Of the two Bens, it was the obviously overwhelmed Lyons who got most of the hatred; next to his co-host's proudly know-nothing enthusiasm, Mankiewicz came off as just about okay.
But now that he's out on his own, there's no lesser figure to draw all the fire. And so it was that Mankiewicz — TCM's weekend host when the venerable Robert Osborne is off duty — incurred the wrath of Andrew Breitbart's corner of the right-wing blogosphere this weekend.
The occasion was Elia Kazan's 1957 "A Face In The Crowd," an ever-timely parable starring Andy Griffith as a folksy radio show host who becomes a powerful mass media figure. Mankiewicz, as a commenter paraphrased it, "openly wondered if the producers had been able to see 50 years into the future and witnessed how people in this country were being manipulated and duped by angry media personalities, some who could cry on cue. He clearly was referring to conservative talk radio." (Editorial note: no shit.)
That's an innocuous enough observation. It's also true, incidentally, to how Kazan and screenwriter Budd Schulberg thought of the movie themselves: as J. Hoberman writes in the Village Voice, "In the '80s, Kazan began saying that he and Schulberg had made a movie about Ronald Reagan back in the days when Reagan was still shilling for GE." Schulberg himself compared Mike Huckabee to the Lonesome Rhodes character.
But that's not how Big Hollywood sees it. Editor John Nolte fulminated over the slight, seeing it as the beginning of TCM's transformation from apolitical haven for classic film lovers (who apparently all skew right-wing) to MSNBC liberal talking head: "Those of us who just want to sit back and relax and enjoy something without having to be on guard concerning a cheap sucker shot aimed at who we are and what we believe in have seen it start just like this a thousand times," he moans, his back against the world.
As usual the commenters drive it into the paranoiac stratosphere. "Jeff Perren" asks: "Is Mankiewicz the grungy fellow who yaks from a set that looks like a SOHO loft, complete with bicycle? […] To the Progressives, nothing good from the past can remain clean and untouched. It has to be 'modernized', made 'hip'." Guestorama waxes conspiratorial: "Look up Ben on Wikepedia and see what you get – former air america host, had a liberal talk show for years by himself, dad was a super hollywood lib that was on Nixon's 'enemies list'. This guy is from ground zero of the liberal world, his whole family is a who's who of liberalism AND HE JUST HAPPENS TO GET THIS GIG and then HE JUST HAPPENS TO SPOUT HIS LIBERAL DRIVEL."
The comments are even weirder over on the TCM comments page (which eventually got moderator locked). "mikeroykirk" shared the text of his letter to TCM: "There was no need for this comparison only for Mr Mankiewicz's need to make a point maybe partially out of jealously and his dislike for Beck,Limbaugh and their fans."
It's even funner to watch the comparative praise for Alec Baldwin, who apparently keeps his liberal politics to himself while co-hosting "The Essentials" with Osborne. Seeing Baldwin praised by conservatives; seeing Mankiewicz jeered…man, yesterday almost didn't completely suck.
[Photos: Ben Mankiewicz, TCM; "A Face In The Crowd," Warner Bros., 1957]