Sweden, the award-winningest country.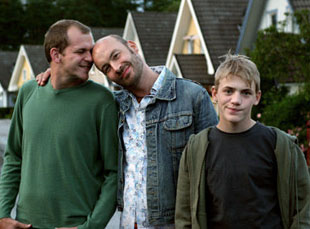 Posted by Vadim Rizov on
If you're tired of reading about all the awards being bestowed on "Up In The Air," "The Hurt Locker" and all, well, there are alternatives.
For example: we could celebrate the sheer multiplicity of awards for their own sake, like the Swedish Film Institute, who today invited "local producers and filmmakers" to show up and celebrate a new domestic record: 145 international awards for 56 shorts, documentaries and features. "Up by 62 wins from 2008," indeed.
I admire the bowling-score approach taken here: at least it's honest about what's at stake. But I've never actually heard of the two score-leaders: "Patrick 1,5" (12 awards) and "The Girl" (ten awards, linked-to trailer NSFW), which were apparently bigger awards-getters than "Let The Right One In."
"Patrick 1,5" is a wacky gay comedy of the "Heather has two daddies" variety. In Dennis Harvey's quietly unenthused Variety review, we learn that it "delivers a formulaic-sounding conceit with enough unpredictability and downplayed sentiment to earn the heartwarming emotions that might too easily have arrived on cue." The premise: Goran and Sven accidentally adopt a surly homophobic teenager instead of the cute infant they were expecting. (15 instead of 1.5 years, lulz.) The awards and festival appearances came strictly, it would appear, from the easier-pleased gay and lesbian film circuit. Color me politely disinterested (American release is set for next year, for those who are).
"The Girl" seems more promising, for its lyrical trailer, strong reviews and the endorsement of David Byrne, whose taste in film is generally as immaculate as in music. As part of the jury at the Estoril Film Festival, he helped split the second prize between "The Girl" and "Eastern Plays." As Byrne says, "This is a beautifully made and shot film about a young girl in a rural house who is left in the care of a young aunt while her parents go on a good works trip to Africa. Soon enough, the young aunt abandons the girl as well — and she has to fend for herself, which isn't completely bad, as most of the adults seem like jerks." So like "Tideland," but nicer?
Cineuropa's write-up notes that "Many festival programmers who have been viewing Nordic films over the last couple of years agree that within Scandinavia, it is no longer Denmark but Sweden that produces the most innovative films." Who knew there was a cinematic rivalry between the two nations? I'm reminded of the insanely xenophobic Swedish Dr. Helmer (Ernst-Hugo Järegård) in "The Kingdom," who constantly delivers monologues on the subjects of how much he despises the Danes. "Here, Denmark. Shat out of chalk and water. There, Sweden. Hewn out of granite. Danish scum. Danish scum!"
[Photos: "Patrik 1,5," Here Films, 2008; "The Girl," Acne Film, 2009]