Eight to anticipate at Sundance 2010.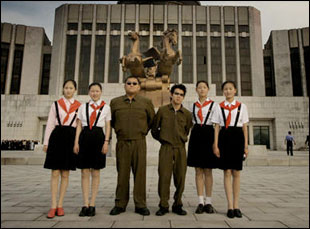 Posted by Vadim Rizov on
"REBEL: This is the renewed rebellion. This is the recharged fight against the establishment of the expected. This is the rebirth of the battle for brave new ideas. This is Sundance, reminded. And this is your call to join us." That's the first thing you see when you visit Sundance's website, where the 2010 festival lineup was unveiled a few hours ago.
Well, like, color me skeptical. Still, there's always stuff to look forward to — based on nothing more than sifting the line-up for prior track records, guess-work and early reviews of stuff that's already premiered, here's eight to anticipate if you're lucky enough to make it out to Park City this January:
U.S. DOCUMENTARY COMPETITION
"Lucky" (Jeffrey Blitz)
The premise isn't extraordinary — "The story of what happens when ordinary people hit the lottery jackpot" — but a lot of people loved "Spellbound" and sadly ignored "Rocket Science," Blitz's uneven but often quite funny/moving narrative take on adolescent awkwardness. Since then he's been killing time directing episodes of "The Office" and "Parks and Recreation," which can only be a good thing: more documentaries could use sharp comic timing. It'll be a crowd-pleaser anyway.
"Smash His Camera" (Leon Gast)
Leon Gast has a truly all-over-the-place resume — anyone want to come over and watch all 131 minutes of "The Grateful Dead," a concert doc from 1977 co-directed with Jerry Garcia? But in 1996 he gave us "When We Were Kings," one of the sharpest, most rhythmically attuned uses of archival footage to capture a world-historical moment — Ali/Foreman, 1974 — in all its dimensions, be they cultural, musical, pugilistic or just Muhammad Ali rapping about the importance of flossing. Gast's subject this time is Ron Galella, paparrazo extraordinaire. Wikipedia's career highlights include being "punched in the jaw by Marlon Brando in Chinatown, beaten up by Richard Burton's bodyguards in Mexico, hosed down by friends of Brigitte Bardot in Saint Tropez, [having] his tires slashed by Elvis Presley's guards in Queens and [being] sued twice by Jacqueline Kennedy Onassis." Hopefully Gast will get his editorial rhythm on and tie together 50 years of pop cultural time-surfing into something intoxicating rather than dutifully plodding, rushing through footage and highlights.
U.S. DRAMATIC COMPETITION
"Holy Rollers" (Kevin Taylor Asch)
OK, listen: "A young Hasidic man, seduced by money, power and opportunity, becomes an international Ecstasy smuggler." Sounds like a New York profile stretched to dubious length; also, the screenwriter is Antonio Macia, whose other feature credit — "Anne B. Real" — is ranked #48 on IMDB's "Bottom 100″ and is described as the coming of age story of a young female rapper, who finds her inspiration by reading the Diary of Anne Frank." So there's reasons to be wary. On the other hand, it stars Jesse Eisenberg, currently our reigning champion for interpreting nervous young men on the cusp of life-changing moments. I've personally watched him almost single-handedly rescue Fred Durst's "The Education of Charlie Banks"; there's pretty much nothing he can't do at this moment. Or, you know, it could just be "The Wackness."
"Lovers of Hate" (Bryan Poyser)
Bryan Poyser was an up-and-coming cause célèbre when I left Austin, alongside other scene mainstays like Kyle Henry, Alex Karpovsky and Bob Byington. 2004's "Dear Pillow" received good reviews all round from trustworthy types for its non-sensational portrayal of an 18-year-old's friendship with the fiftysomething ex-porn director next door, apparently avoiding the twin traps of hysteria and quirkiness. "Lovers of Hate" has a cast that includes Karpovsky — hilarious in both "Beeswax" and "Harmony and Me" — and will perhaps be Poyser's break-out feature. Also, it's cute that Sundance is dipping its big toe into something that could vaguely be classified, by virtue of cast-list alone, (sorry guys) "mumblecore." Welcome to the party guys; what took you so long?
WORLD CINEMA DOCUMENTARY COMPETITION
"Last Train Home" (Lixin Fan)
Chinese documentary cinema is pretty much where it's at right now — cf. Jia Zhangke's documentary work, NYFF 2009 selection "Ghost Town" — and I'm told we're not even close to scratching the surface at this point. Lixin Fan's doc follows factory workers struggling to get home to celebrate the new year, which sounds like a perfect micro premise for a macro portrait of contemporary China and its disconnect from area to area. indieWIRE's Eugene Hernandez caught it at the International Documentary Festival Amsterdam (where it won best feature length doc) and noted its "stunning" cinematography, which bodes well: unlike their US counterparts, Chinese docs (the few I've seen, anyway) tend to have a formalist jones that serves them well.
"The Red Chapel" (Mads Brügger)
This is just nutty, and sounds like a joke: "a documentarian and two comedians walk into North Korea…" But it's not. If nothing else, this will be some extremely rare footage of one of the world's most tightly sealed countries. But — by all accounts — this is also one seriously twisty piece of work, where the original agenda of making hay devolves into an ethical query about what's happening, not just a travelogue. Like, is it OK to use a comedian with a speech impediment to confuse the authorities? Is this brave or just grandstanding? I can't wait.
"Secrets of the Tribe" (José Padilha)
Padilha's 2002's "Bus 174" was a super-rigorous piece of cultural and media analysis, working through a one-day bus hostage situation in Rio de Janeiro. 2007's "Elite Squad" won the Golden Bear at Berlin, but a lot of people I know accused it of being fascist, and for 2009's documentary "Garapa" Padilha admitted he'd let his impoverished, malnutritioned subjects starve from the camera before turning it off and throwing them some cash, which is ethically shaky, to say the least. But he's fearless in the face of controversy, which is what makes him perfect to do a documentary about academic anthropologists arguing about potential exploitation of Amazon Basin Indians. No, seriously: this is a big deal (anyone who's had to take an intro to anthropology class knows this), and his instincts will surely be for the visceral and passionately argued rather than the academic.
WORLD CINEMA NARRATIVE COMPETITION
"Four Lions" (Christopher Morris)
Strictly because it's directed by Christopher Morris, who's a huge deal in the UK for his work on shows like "The IT Crowd," writing one of Steve Coogan's first big hits ("The Day Today"), etc. Armando Iannucci's leap from small-screen comedy to features ("In The Loop") rocked Sundance (and my world) last year. So I'll take this one on faith.
[Photo: "The Red Chapel," Zentropa Productions, 2009]