Seven movies that pushed the boundaries of storytelling.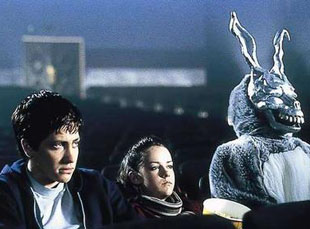 Posted by Vadim Rizov on
Something struck me when reading Cameron's typical hubristic declarations in his conversation with Peter Jackson over at Slate. He said "Filmmaking is not going to ever fundamentally change… It's about those actors somehow saying the words and playing the moment in a way that gets in contact with the audience's hearts. I don't think that changes. I don't think that's changed in the last century… [The studios have] also lost the courage to make, frankly, a movie like 'Avatar,' which is a blockbuster-scaled movie not based on prior arc."
But just because a film's not part of a franchise doesn't mean it's a radical break with the hero-cycle past. And Cameron is way out there if he really thinks "Avatar" is all that different, when it comes to plot freshness, from the "Transformers" and "Harry Potter"s of the world. Leaving aside the avant-garde, there've been plenty of movies that re-orient how we think about narrative. Here are seven of my favorites from our waning decade:
"Borat" (2006)
I don't need to tell you anything about this movie. Watching it opening weekend with a sold-out crowd was like remembering the shock waves Eminem sent out in 2000 or reading about the affect Richard Pryor used to have. What's weird about it is the way it indicates what's "real" and what's staged: the visual quality goes way down, from near-filmic to sub-consumer-grade. I'm not sure what's what (IMDb claim it's all video), but — unintentionally or not — "Borat" indicates clear shifts from its narrative to its provacateur tactics by encouraging the public to pay attention to the quality of the film stock. That's new.
"Code Unknown" (2000)
On the surface, this movie looks like another son of "Short Cuts": multiple characters, intersecting and overlapping at odd moments without even realizing it, a trick done by everything from "Pulp Fiction" and "Magnolia" to (rock bottom) "Sin City" and "Crash." But it isn't: it's about the failure of communication, and not all of its characters connect, or even realize the potential ramifications of what's happening. Which is perfect for a movie about communication breakdown (see: the title), and also unexpected from a movie by Michael "Master of Didacticism" Haneke. It re-orients your expectations: you keep waiting for things to come together and converge on a focal point. And they never do.
"Donnie Darko" (2001)
All of Richard Kelly's films have the starting assumption that you've read as much Stephen Hawking as he has and can fill in the narrative gaps accordingly. The original version of "Donnie Darko" is pretty incomprehensible, David Lynch in the suburbs, but sucked you in stylistically even if you couldn't put together the pieces. (The director's cut, ironically, ruined everything, spelling out what was elided — wormholes! alternate universes!) Either it's something you can piece together with a decent knowledge of dumbed-down quantum physics (something Kelly forced me to investigate) or it's something else: science as a way of filling in the emotional/plot gaps. Forget the Hot Topic t-shirts; that's as radical as it gets.
"Irreversible" (2002)
It's not so much that Gaspar Noé made a movie that goes from ending to beginning; if that was all it took, I'd have "Memento" here. But I'm not a "Memento" fan, and I do (with caveats) like this one. Noé prefers controversy to reasonableness (which has proven his major marketing hook), so many viewers were understandably distracted by, say, the opening, featuring a man getting his head bashed in with a fire hydrant, or the infamous extended rape sequence.
What "Irreversible" is trying to do, though, is go from the end to the beginning to suggest nothing less than the entire arc of "2001" (referenced in a shot of its poster) in a way more literal way, going from corruption and despair to innocence and rebirth (doomed from the outset) in under 100 minutes. It's both literally and metaphorically a summary of human experience and how "time destroys everything," as the opening line puts itt. This may or may not be stupid (it's kind of both), but it is unprecedented, even when triangulated by its own reference points.
"No Rest for the Brave" (2003)
There are plenty of movies that operate on dream logic (the entire "Nightmare on Elm Street" series, for starters), but none quite like Alain Guiraudie's first feature, a movie that more than earns Buñuel comparisons. This is a movie which opens with a guy rambling about how something called Faftao-Laoupo (which he may or may not have seen in his dreams) will kill him if he ever sleeps again. 20 minutes in, everyone dies. Cut to: sheep, someone talking about how being a shepherd, all things considered, is just fine. I'm not sure this movie makes sense, but I watched it twice within 24 hours, and I can safely say nothing else has even come close to blurring the lines of dream and narrative. Even "Mulholland Drive" is easier to parse.
The clip below doesn't have subtitles, but there's only one line, which is "I can't believe how bored I am."
"Primer" (2004)
Shane Carruth's bold opening salvo (his only film to date) is unlike anything I've ever seen. It's a movie shot for $7,000, the same budget, inflation-unadjusted, as Robert Rodriguez's 1993 "El Mariachi," but used for way more aesthetically impressive results. It's about Texan engineers inventing a time-travel machine that works — so successfully, in fact, that the movie, without giving a hint of what it's doing, simply adopts the branching timelines and alternate universes opened up once the engineers step inside "The Box."
According to this timeline, there may be as many as nine branching universes knocking around in there. What "Primer" does best, though, is suck you in stylistically, then leave you to sort out the scientific (logical, but nearly impenetrable) mess. You don't need to understand what's happening to love it, just to know that it works. Black box magic indeed.
"Tropical Malady" (2004)
Splitting a film down the middle isn't necessarily a radical trick — Korean director Hong Sang-soo does it as regularly as Michael Bay zooms in for the big gas explosion — but Thai visionary Apichatpong Weerasethakul not only attempts it pretty much every time out, he's made it absolutely unreplicable. Suffice it to say no one else could've made a movie that showed a love story twice — once as a straightforward gay romance, again as man vs. jaguar. No one else out there is blending art-school strategy, visceral warmth and Thai folklore — not that I can imagine who else could.
[Photo: "Donnie Darko," 20th Century Fox Home Entertainment, 2001]