Soderbergh, it ain't over until Liberace sings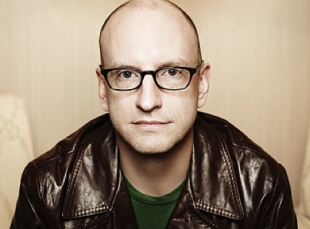 Posted by Brandon Kim on
Steven Soderbergh has proven to be a uniquely unpredictable director since his debut in 1989 with "Sex, Lies, and Videotape." He's lost me a few times over the years especially with his, Tarkovsky "Solaris" remake, but it's sad news to hear one of the most interesting American directors announce that he's throwing in the towel. I'll even miss the "Ocean's" movies a little bit.
"I'll go away and come back with a different approach – or I won't."
So maybe he'll return. Twenty years is a long time, and the past few years have not been kind to Soderbergh's efforts. "The Girlfriend Experience" though so timely (remember Elliot Spitzer's pet, Ashley Alexandra Dupré) and bold (casting porn star Sasha Grey) did not do well. The 2-part epic "Che" was under marketed and tanked worldwide. Recently, "The Informant!" was totally over marketed and misleadingly so. Blame that exclamation point for throwing off the studio's hype men, I guess they thought it was a really hilarious! comedy with fat suits and whoopee cushions.
Although Soderbergh was dropped from the Brad Pitt Baseball picture, "Moneyball" he still has some pictures in the pipe…. and they are two of the craziest musicals I've ever heard of. First up is "Cleo," a musical staring Catherine Zeta Jones as Cleopatra and now Ray Winstone as Julius Ceasar. In case you haven't heard yet, Guided By Voices will provide the music, and it's in 3D.
"Cleopatra's world would be a natural for this. You combine a 3D journey into her world, with Robert Pollard's Guided by Voices music and dancing, it should be great fun." he told critic Roger Moore.
I love Ptolemaic beauties and my guitars strung with screen door wire as much as the next guy but this project sounds crazier each time I read about it. It sounds like it could be gratuitously offensive, but there's also that chance this is a musical tailor made for a generation that isn't crazy about musicals.
More solid and thrilling, is the upcoming untitled Liberace flick, which I guess is more biopic than musical. It was written by "The Fisher King" writer Richard LaGravenese and that is enough to warrant attention right there. It's set to star Michael Douglas as the infamous Milwaukee Glitter Man (I hope that's the title) and Matt Damon as his lover. I'm rolling around in the aisle spilling popcorn already. Cross your flamboyant fingers that this comes together before Soderbergh makes his exit.