Seven prominent soap opera guest stars.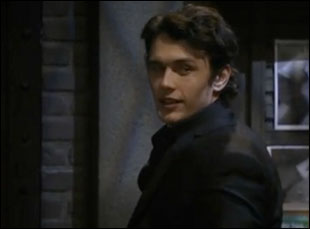 Posted by Vadim Rizov on
It's strange that people don't seem that interested in the fact that James Franco is in the middle of a two-month guest star arc on the soap "General Hospital," now 45 years long and still going strong. Whatever Franco's reasons, it's hard to blame him for the move — if I were a uniquely talented comic actor who kept getting cast as glowering and moody (blame "Spider-Man"), I'd want to take that image to its logical extreme as well.
But Franco's hardly the first prominent guest star to grace "GH" or the soap opera world in general. Stretching the definition of "prominent" a bit, here's seven great moments in soap opera guestage. (Sadly, Sammy Davis Jr.'s turn as "Chip Warren" on "One Life to Live" wasn't available for YouTube perusal.)
Elizabeth Taylor, "General Hospital" (1981)
Princess Diana got more than 750 million viewers worldwide for her nuptials, but 1981's second most successful television wedding — between Luke and Laura — got a decent 30 million, and Diana herself sent some champagne along. It remains a cultural touchstone, one of the few references non-soap viewers like me get. Less remembered are two things: Elizabeth Taylor also came by shortly after the wedding (as "Helena Cassadine"), and apparently the plotline that season included a sinister weather machine that started a blizzard in the summer. Taylor plays at the level of the show, no better or worse than anyone; you just have to remember who she is to make it special. La Liz knows tumultuous marriages, yes she does.
Carol Burnett, "All My Children" (on and off from 1976-2005)
Even while "The Carol Burnett Show" was going strong, Burnett was a huge enough fan of "All My Children" to guest in 1976 as a hospital patient. Then she got her own character starting in 1983 and returned in 1995 and 2005. And, one of those times, guess who she ran into? Elizabeth Taylor, natch.
Jerry Springer, "Days of Our Lives" (2007)
It's only natural that daytime talk shows' trashiest purveyor of "real-life" soap operatics would also be found appearing on the (only marginally more acting-heavy) dramatic equivalent. He's been on "Passions" and "Sunset Beach," but his highest-profile stint was on longtime survivor "Days of Our Lives," where he delivered a remarkably unconvincing turn as "Pete," gambler extraordinaire. Sure, he can handle being kissed by two blonde casino slatterns, but for some reason he can't do a convincing drunken reel. You'd think he'd have it down by now.
James Franco, "General Hospital" (2009)
Like Elizabeth Taylor, Franco plays it straight, neither altering the tone to fit his personality nor screwing up royally. As Movieline's Julie Miller notes, Franco's been admirably game with the hectic shooting pace of soap operas, but they still had to cut down from two takes per scene to one to accommodate him. He barely makes it through this take, but considering he's an amateur at this, it's impressive. Oh yeah, this is a really silly plotline about a painter who murders people. Or something.
Snoop Dogg, "One Life To Live" (2008)
Yes, Snoop's got over 40 acting credits not as "himself." Granted, most of those roles have names like "Huggy Bear" and "Captain Mack." He also has at least a little range — check his surprisingly effective turn in "Training Day" for proof — but he's mostly called upon to be his genial self, whether in character or not. Here he's Snoop Dogg, performing some lesser latter-day material, making the middle-aged white folks feel comfortable and at ease (he tutors one woman on how to flow like him) and buying drinks for everyone.
Bronson Pinchot, "The Young and the Restless" (2008)
For six episodes, the sharp-tongued Bronson Pinchot was Patrick the publicist. Publicists can be unctuous and annoying; Pinchot puts a self-satisfied topspin on it, confident in himself and seemingly without any kind of personal center whatsoever. He's way above and beyond what's going on around him.
Roseanne and Tom Arnold, "General Hospital," 1994
I've saved the best for last. For one deranged episode of "General Hospital," Roseanne and Tom Arnold guested as a couple with documents Luke and Laura needed to blackmail someone. The year of their divorce, they're on-screen as a deeply unhappy married pair: she runs the casino, he tries to pick up women in it. Channeling the same crazed intensity he brought to "True Lies," Tom Arnold tries to jump all over Laura by telling her "I want to take you on a magic carpet ride." Meanwhile, Roseanne starts making out with long-lost love Luke on the couch after the following exchange:
LUKE
Destiny's fickle, Jen.

ROSEANNE
Whatever.

Arnold enters at about 2:50 below; it's essential viewing, marital disintegration as comic psychodrama. I'm not the biggest expert on soaps, but I'm pretty sure this is a rarity: if they were always this deranged, some sharp Douglas Sirk scholar would've picked up on it by now. This video may be the best thing you watch this week — it's definitely mine.
[Photo: James Franco on "General Hospital," ABC, 2009]