"Sincere fairy tales" sell toys.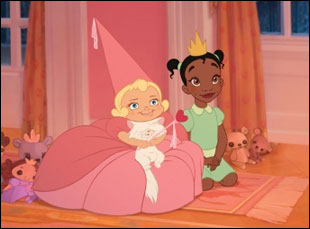 Posted by Vadim Rizov on
One of the things Pixar boosters love is the studio's supposed indifference to overt commercial prospects — you know, their willingness to make a movie with a robot who doesn't talk for the first 45 minutes (no matter that "WALL*E"'s sound and visuals are more than enough stimulus for even your most easily bored viewer) or build a movie around a crotchety old guy (no matter that the old guy is just as cute and cuddly as, say, a fish voiced by Albert Brooks?).
So there was reason for Pixar fans to get psyched that Disney's traditional animation division was being taken over by John Lasseter. As far back as May, Lasseter was all pumped about what he called the return of the "sincere fairy tale" — which Disney apparently hadn't made one of since "Beauty And The Beast" — and he still is, talking to the Los Angeles Times about designing Mattel toys for "The Princess and the Frog," Disney's hyperactive but harmless (if far from amazing) return to the traditional animation fray. "We're a filmmaker-led studio, and not an executive-led studio," he said in May.
But quickly he was making intuitive leaps that are savvy, cynical or both: "What's at the centre of every Magic Kingdom the Disney company has?" he asked Screen Daily. "The castle. Look how gigantic the princess brand is within consumer products. You've got to recognise that, and see how important it is to families."
Which makes one wonder — what's an insincere fairy tale and what's wrong with "Aladdin"? Does "important to families" mean "important" in some kind of meaningful quasi-spiritual sense or just "renumerative" and "good to get for your kids for Christmas"? By "fairy tale," does Lasseter mean fantastical tales centering solely around princesses rather than men (because the toy market is just that much more lucrative), and isn't that kind of not true? When the LA Times praises Lasseter for his meticulous attention to toy-making (flying to Hong Kong to watch Buzz Lightyear being painted, insisting "WALL*E" have real treads rather than wheels), should we be impressed or wonder where the man's priorities are?
"The Princess and the Frog" just isn't that great. It's not as saccharine and overbearing as the Disney pits of the '90s, but it never once does anything surprising or odd — something the best Pixar films, despite their general observance of the generic three-act arc, are totally capable of doing. But I'm have to applaud Lasseter's uneuphemized calculations here. The resurrection of the Disney "brand" is irrevocably tied in with princesses and toys and lessons about being yourself, all of which "Princess" has (down to its title, I mean c'mon).
What Lasseter seems to be saying (unconsciously?) is that the Disney brand can't be reinvented all at once, much less salvaged, and his primary responsibility there is to the merchandise, and at Pixar it's the work. That's what he really means when he says one difference between Pixar and Disney is that "at Disney we believe in the sincere fairy tale." For "sincere fairy tale," read "toys."
[Photo: "The Princess and the Frog," Disney, 2009; ]