"Sherlock Holmes" by Dan Brown.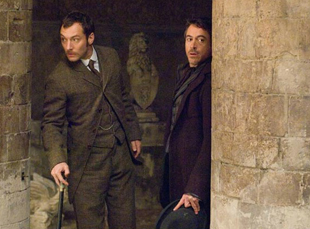 Posted by Vadim Rizov on
Long story, but over the weekend I found myself simultaneously within arm's length of Dan Brown's latest novel — "The Lost Symbol," the fastest selling adult-market novel in history (whatever that means) — and in a movie theater watching "Sherlock Holmes," the Guy Ritchie abortion I had no plans of seeing.
It was awfully clever of Ritchie to excuse his normally ADD-via-cubism editing scheme by having Holmes explain in slo-mo how he fights people, then speeding it up. I take it this proves that Ritchie isn't editing too fast, just that you're too slow to catch up to the future. Nonetheless, there was an awful lot of dim CGI, sound and fury and the perpetually annoying Rachel McAdams (though that might just be me), and it all ground on for a long time before it was over.
One of the things that didn't particularly bother me, at least going on, was Holmes' reinvention as ass-kicking action hero. As Nathan Heller pointed out at Slate, it's hardly the most outrageous or grievous reinvention of a man whose knowledge of some martial arts is already on the record.
I was, however, reasonably depressed that Holmes had been sent off to fight a super-secret ancient society hellbent on global domination. The villains here are practitioners of Black Magik or some such hoodoo: they wear pins to identify themselves, have meetings, spew vaguely fascist nonsense and love their cryptic symbology. They are the Temple of the Four Orders, who never actually existed, which is worse than what Brown does — at least you can learn some paranoid historical trivia from his work.
Yet both the new "Sherlock" and "The Lost Symbol" tap into the same sense of autodidacticism that has made contemporary heroes as skeptical as the villains they chase. The most captivating passage in the latter — at least in the 40 pages I slogged through — is the implication that anyone casually erudite is probably a psychopath ("The man's religious and literary references solidified Langdon's suspicion that he was dealing with a madman"). In Brown's universe, you need to know about the super-secret conspiracies that rule our society; there's no other choice.
Which, I suppose, is what's supposed to make Ritchie's Holmes redux one for Our Times, more so than its sped-up action and frills. Like Brown's work (A.O. Scott picked up on the vibe too, the new "Sherlock Holmes" posits a paranoid status quo of self-reliant pedants investigating trivia and arcana, thereby saving the world. Similarly, in Chuck Klosterman's uneven novel "Downtown Owl," there's an elderly character named Horace Jones, who firmly believes he understands how the world and history work because of his copious non-fiction reading, which tends towards biographies and war histories of the most revisionist kind. That, he thinks, is what gives him a clear-eyed perspective on the world.
A kind of Tea Party paranoia writ large, it's this urge to view the world as dark forces that can be learned about in massive doses of factoids, then defeated with the same, that makes Brown and this "Holmes" more firmly of its time than the much-noted and specious so-called "darkness" of "The Dark Knight," "There Will Be Blood" and other late-millennium flashpoints. For all the paranoia, it's peculiarly reassuring.
But still stupid.
[Photo: "Sherlock Holmes," Warner Bros, 2009.]