Quiver along with "Sherlock Holmes."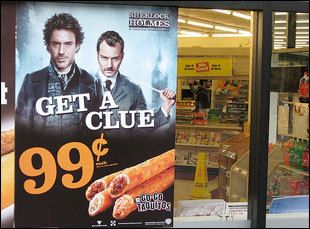 Posted by Vadim Rizov on
"Sherlock Holmes" is poised to be the underperformer of December's limited blockbuster crop, because a) most Americans don't care about the adventures of a dead white Victorian, even if he knows kung-fu b) Watson and Holmes are a little gay, and America doesn't care for that kind of thing in its action heroes (or, apparently, its state legislation). Or something.
Every box-office "analyst" and trend-watcher in the United States of America has, based on this fact and "The Soloist," expressed concern that Robert Downey Jr. is no longer a star. Brows will furrow. Next summer, "Iron Man 2" will come out and makes barrowloads of money and all will be forgiven.
But until that happens, let's look at the marketing that will help "Sherlock Holmes" underperform. There are many ways to do tie-ins to your movie. If, for example, you have Jude Law and Robert Downey Jr. in bed together, you've pretty much lost the Happy Meal demo. But you can still access millions of Americans who regularly visit 7-Eleven, even though 7-Eleven is pretty much synonymous with bad coffee, skater kids in the back and sheer, suburban necessity.
It was funny when certain 7-Elevens turned into Kwik-E-Marts for "The Simpsons Movie," and generic action tie-ins like the G.I. Joe Liquid Artillery Slurpee flavor make demographic sense. But why you'd condescend to consumers — both of 99-cent Taquitos and holiday action fare — with smarmy taglines like "Solve your hunger!" and "Investigate our coffee" is, uh, a real mystery. (See? I can do this too!)
But more symptomatic and weird is the news that ten theaters will feature D-BOX Technology, which lets you "experience the film from seats that move simultaneously with the onscreen action." It is what it says it is: stimulation for movies that don't need any more. Their presence is still minimal, even though ten theaters is way up from this summer's three — but there are a bunch of Blu-Rays you can try it out on, should you be willing to spend $3600 for the cheapest variant, the "Universal Motion Platform" to be installed under existing seats.
The D-BOX-ready titles available so far are understandable, with a few odd bumps thrown in. I get how "Transformers" becomes way more kinetic when you're being shaken around in time with the shaky-cam on screen, but did the world really need "Heat" with each gunshot giving "a satisfying thump to the chair"?
C'mon, if you really need a quivering seat to convince you that dated shlock like "The Towering Inferno" can help convince "anyone skeptical that a film in the mid-1970s could be action packed" (a quote, like the one above, courtesy of DailyGame's Jonas Allen), then your primary interest isn't in movies. It's in getting sensorily pummeled in every possible direction.
The real question: who are these people who think a Guy Ritchie or Michael Bay movie isn't hyperkinetic enough? I'm willing to believe 3D is here to stay, but this is… silly. Just turn your speakers up loud enough to shake your chair. There — problem solved.
[Photos: "Sherlock Holmes" 7-Eleven ad, courtesy of Todd Mecklem; "Sherlock Holmes," Warner Bros., 2009]