The seven most influential filmmaking countries of the '00s.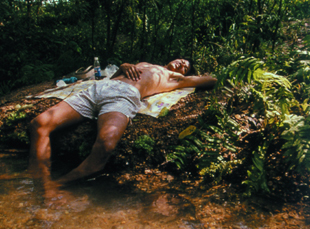 Posted by Vadim Rizov on
At the Telegraph, critic (and former professor of mine) Sukhdev Sandhu writes about "the sorry decline of American cinema" and comes up with a handful of cultural flashpoints for the future: "The new energy hubs are likely to be found in Mexico; in Romania; in Thailand… in Lagos… in Korea."
While I don't agree with his blanket bashing of our domestic film product, It's true, at least, that world cinema has trend-hopped as exhaustively as the music world in terms of what's hot in the past ten years. Here's a tenuous list of seven countries that I saw as most having left their mark this decade in different ways.
Iran (1997-2002)
From the late '60s on, Iran been on the cinema map: Dariush Mehrjui's 1969 "Cow" was smuggled out to the Venice Film Festival in 1971, and (current opposition spokesman) Mohsen Makhmalbaf had some prominence in the '80s. But 1997 is when Makhmalbaf's "Gabbeh" and Abbas Kiarostami's "Taste of Cherry" made a (relative) mark in American arthouse theaters; a year earlier Jafar Panahi's "The White Balloon" had made nearly half a million, and two years later Majid Majidi's "Children of Heaven" would finally straggle into American theaters and collect nearly a million.
I'm cutting off Iran's influence at 2002 (with "10," pictured, when Kiarostami went digital) even though Kiarostami and Panahi have continued to make strong work. A new generation of Iranian filmmakers — especially Makhmalbaf's daughters Samira and Hana and Bahman Ghobadi — have emerged, but with minimal or zero commercial exposure in the U.S. Iran's back in the headlines for the obvious tragic reasons, but whether its cinema will re-emerge or not is impossible to tell.
Where to start: Jafar Panahi's "Crimson Gold," with a script from Kiarostami that places the usual Socratic dialogues and extremely dry comedy in service of Panahi's Don Siegel-level eye for urban landscapes and grit.
Thailand (2000-2004)
Thailand briefly burst out, thanks to three filmmakers: Apichatpong Weerasethakul. whose dreamy jungle-centric films blur into avant-garde boundary-pushing; the whimsical Wisit Sasantieng (whose spaghetti western homage/spoof "Tears of the Black Tiger," pictured, could've been a cult hit if the Weinsteins hadn't bought and promptly failed to distribute it, and whose "Citizen Dog" earned "Amelie" comparisons); and Pen-Ek Ratanaruang, whose "Last Life of the Universe" scored the DP services of Wong Kar-Wai collaborator Christopher Doyle. But the commercial films never got a chance, and the wonderful Weerasethakul has proven too languorous to ever gain more than a scattered arthouse following, which is a shame.
Where to start: Weerasethakul's "Blissfully Yours," a slyly funny reverie which has a clip of an amazing-sounding TV movie called "The Dolphin Who Wanted To Die" and whose opening credits don't come til 45 minutes in. If you don't want to see people plotlessly frolicking in the sun, this may not be for you, though I find it inexplicably soothing.
Argentina (2001-present)
South America's full of fascinating up-and-comers like Chile's Pablo Lorrain, whose grotesque "Tony Manero" is a cult classic in the making, but Argentina's home to the most. The late Fabián Bielinsky's "Nine Queens" (pictured) got an indiewood remake (as 2004's "Criminal"), while on the festival circuit the big players are Lucrecia Martel ("The Holy Girl," "The Headless Woman") and Celina Murga, whose "Ana and the Others" and "A Week Alone" got exposure but no distribution. The favorite national theme seems to be a heightened fascination with class.
Where to start: Argentina has an unusually large number of prominent female directors. I'm personally most into Lucia Puenzo, whose 2007 "XXY" is as good a hermaphrodite movie as you'll ever see. Thin praise, I guess, but it's a satisfyingly chilly, Cronenberg-esque take on the subject filtered through some surprisingly nuanced teen angst.
Austria (2001-present)
You could just as easily substitute Germany here — the so-called New Berlin School of Maren Ade, Valeska Grisebach and all. But they've barely made a dent in the arthouses as of yet (though the planned 2010 release of Ade's savagely hilarious "Everyone Else," pictured, has a small chance of changing that). Austria, meanwhile, has Michael Haneke, who sometimes somehow actually makes money these days (and Ron Howard's threatening a remake of "Caché") and whose reputation continues to grow. They also have zeitgeist champ Ulrich Seidl and documentarians Michael Glawogger (whose 2005 "Workingman's Death" has tracking shots as fearless as Kubrick's and twice as dangerous) and Nikolaus Geyrhalter, whose "Our Daily Bread" is at least as important as "Fast Food Nation" (book or
Where to start: I've already talked up Seidl's "Import Export" — which finally hits DVD January 26 — but in the meantime John Waters named it his favorite movie of 2009. If that helps. The trailer below is NSFW.
Korea (2002-2006)
Korea had a period of reasonably widespread popularity between "Oldboy" and "The Host" — two slick, wildly commercial movies that did okay at the American arthouses — that also included Kim Ki-Duk's "Spring, Summer, Fall, Winter…and Spring," pictured, which somehow grossed more in the US than Bong Joon-ho's honest-to-goodness monster movie. I've placed the cut-off at 2006, not because the films have gotten less interesting — far from it — but because, for some reason, slick Korean blockbusters (some of the best of the world) have for some reason failed to stick here, while the major arthouse filmmakers (like Hong Sang-soo) are struggling as ever for exposure.
Where to start: "The Host" is fun, but Bong Joon-Ho's previous film "Memories of Murder" is better, a jaunty and vigorous epic about decidedly non-jaunty topics (serial killings, political repression, police corruption and abuse). Bong blends commercial intuition and writerly Big Themes like no one else working today.
China (2002-present)
After previously peaking with the early '90s so-called "Fifth Generation" of Zhang Yimou, Chen Kaige (whose "Farewell My Concubine" snapped up over $5 million in 1993 on spectacle alone) and all, China went quiet internationally for a while. In 2002, Yimou re-emerged as a state-sponsored showman with "Hero," pictured — eventually successfully collecting over $50 million thanks to Quentin Tarantino's name above the title — and Chinese martial arts reigned supreme again, culminating in Yimou's staging of the 2008 Beijing Olympics' opening ceremonies. Meanwhile, a new generation of documentarians have emerged — spearheaded by the shape-shifting Jia Zhangke, who treats narrative and non-fiction the same way — buoying festivals and worthy of a larger audience.
Where to start: Jia's slyly funny "Still Life" is like a Jim Jarmusch movie incongruously set against the background of 1.5 million people's displacement, and it's (at least temporarily) available on YouTube in full.
Romania (2005-present)
Romanian cinema is really broad, but there's no denying that the films most stressed upon American release — "The Death of Mr. Lazarescu," "4 Months, 3 Weeks and 2 Days," "12:08 East of Bucharest" — all focus on dark humor in the midst of realistically filmed, depressing post-Soviet surroundings and decaying infrastructure. Which — artistic considerations aside — would still place Romania ahead of other post-Soviet republics like the barely (cinematically) present Ukraine and Slovenia, and neck-and-neck with or ahead of Russia, whose biggest hits (like the "Night Watch" series) tend to be unexportable. Bonus point: director Cristi Puiu claims "Lazarescu"'s main influence is "E.R.," bringing everything back to America. USA! USA!
Where to start: Honestly, for me all these movies blend into a series of comical scenes of hard-drinking chain-smokers being unnecessarily rude to each other and consistently, disproportionately spiteful. Here's one of the best of those bits, from the currently in release "Police, Adjective." If there's anything more meta than watching a YouTube clip of someone bitching about a YouTube clip, I don't know what it is.
[Top photo: "Blissfully Yours," Plexifilm, 2002]