Running Amunk for the Holidays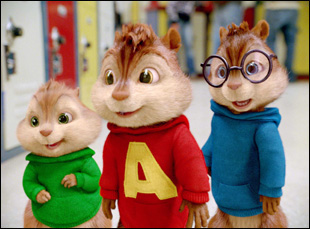 Posted by Neil Pedley on
Happy holidays, everyone! Those willing and able to drag themselves away from the huge pile of swag under the tree can enjoy the late Heath Ledger's final performance, a Jude Law double bill and a drolly comic Romanian police procedural underneath among other holiday presents that await at the multiplex.
"Alvin and The Chipmunks: The Squeakquel"
With the tagline "Munk Yourself" sounding more like a threat than a come-on, the high-pitched trio of singing rodents return just in time for exhausted moms to plunk the rugrats down at the multiplex after the presents are unwrapped while they snore quietly in the back row. Betty Thomas, who has some kid-themed kid-themed hijinks with on her CV, steps in for the first film's helmer Tim Hill and trades out her experience with real critters on "Dr. Dolittle" for these much less messy (not to mention non-union) digital substitutes. Jason Lee reprises his role as Dave, the caretaker of the furry three (voiced by Justin Long, Matthew Gray Gubler and Jesse McCartney) as Alvin and gang lose their musical supremacy and their hearts to the all-girl outfit, The Chipettes (voiced by Amy Poehler, Anna Faris and Christina Applegate)
Opens wide on December 23rd.
"The Imaginarium of Doctor Parnassus"
A director who seems only happy when it rains, Terry Gilliam has matched his wits against studios (as on "Brazil") and tornadoes on the set of his first crack at "Don Quixote" (as seen in "Lost in La Mancha"). But surely nothing could have prepared him for the tragic death of his lead Heath Ledger in the midst of shooting his latest film, which has become a memorial of sorts for the late star. Ever the pragmatist, Gilliam called on Johnny Depp, Colin Farrell, and Jude Law to play the refracted versions of Ledger's character Tony, a rascally amnesiac who, after being rescued from a botched execution, becomes the wild card in a final round of betting between the 1000-year old Dr. Parnassus (Christopher Plummer) and a rasping Devil (Tom Waits) over the perfectly innocent soul of the doctor's daughter, Valentina (Lily Cole).
Opens in New York and Los Angeles before expanding wide on January 8th.
"It's Complicated"
After "Something's Gotta Give" and "The Holiday," Nancy Meyers returns to give the flagging rom-com genre a much needed shot of life and fly the flag for the under-sexed, underrepresented 50-plus crowd with a saucy story of second chances that goes to show you simply can't put a clock on passion. Oscar magnet Meryl Streep stars alongside Emmy hog Alec Baldwin as Jane and Jake, a once-married couple who give each other a second look when Jake's marriage to a much younger woman starts to fall apart. The venerable Steve Martin (being generous here Steve, don't let us down) co-stars as the other other man, so to speak, in what is likely to be yet another dagger in the heart of Meyers' real-life ex, director Charles Shyer.
Opens wide.
"Police, Adjective"
Romanian writer/director Corneliu Porumboiu is fast becoming something of a Cannes darling, with this his sophomore feature matching the feat of his melancholic ensemble debut "12:08 East of Bucharest" in scooping a pair of prizes (FIPRESCI, Un Certain Regard) at the prestigious festival. This comically tinged police procedural also picked up the Transylvania Trophy in its native country, which we only mention here because it has a cool sounding name. Characterized by periods of silent observation punctuated by random arguments over semantics, Porumboiu's morality play details the drudgery of police work as a young cop (Dragos Bucur) reluctantly stakes out a petty pot dealer, secretly hoping that the boy will lead him to a bigger fish. In Romanian with subtitles.
Opens in limited release on December 23rd.
"Sherlock Holmes"
Given his career-long fascination with swaggering, cockney wide-boys, it's really not all that surprising that director Guy Ritchie gravitated to the character of Sherlock Holmes — arguably London's first "geezer" problem solver — as merely a natural extension of his existing body of work. Cherry-picking some of the more cinematic (and less well known) character traits of Sir Arthur Conan Doyle's renowned detective, Ritchie gives us a swashbuckling Holmes (Robert Downey Jr.) who is as much a lover and a brawler as he is a master of deduction. Ably accompanied by his long-suffering stalwart, Dr. Watson (Jude Law), Holmes races around Victorian-era London in pursuit of the wily Lord Blackwood (the ever-more-impressive Mark Strong), a scheming occultist who fakes his own death to avoid Scotland Yard's unwanted attention and take control of Parliament.
Opens wide.
[Additional photo: Dragos Bucur in "Police, Adjective," IFC Films, 2009]