The late Roy Scheider guns for an Oscar.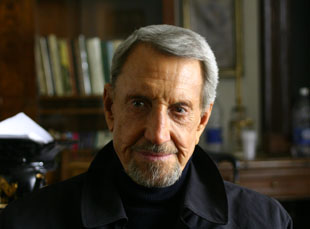 Posted by Vadim Rizov on
Like many notable actors fallen on tougher times, the last decades of the late Roy Scheider's career — pretty much everything after 1991's "Naked Lunch" — went from the respectable paycheck (time on "SeaQuest DSV") to the rock-bottom video remainder pile ("Dark Honeymoon," starring Tia Carrere). Which is entirely too bad.
Presumably, though, neither the director of, say, "Dracula II: Ascension" nor Scheider, who appeared in that film (and its sequel!) as Cardinal Siqueros, had delusions about the quality of their end product.
Joshua Newton — writer/director/editor of Scheider's swan song "Iron Cross" — definitely does. Until yesterday, I'd never heard of his film. If I was a Variety subscriber, however, it would've been unavoidable.
Newton got his private British investors to agree to about $400,000 worth of daily "For Your Consideration" advertising in the trade paper from mid-November to the end of January (when ballots are due), including four mega-expensive cover ads and a DVD copy of… the trailer (which anyone with basic YouTube comprehension can find).
The goal is to get a posthumous Academy Award nomination for Scheider: "His performance is magnificent, but obviously it's up to other people to decide that. We are honoring Roy Scheider by putting this up for the academy."
To that end, Newton also worked around the clock to complete the film for a one-week qualifying run at Encino's Laemmle Town Center — a move even Laemmle staffer Gregory Gardner says generally only works for documentaries, but whatever.
"Iron Cross" is the story of a man who lost his family during the Holocaust, comes to visit his son in present-day Nuremberg and decides one of the neighbors is actually the officer who killed mom, dad, sis and bro. So he does what any reasonable man would do: he kidnaps him to exact justice.
The only review I could find is, ironically, from Variety's Robert Koehler, not at all grateful for the ad buy. "A film of serious intent undone by hackneyed plotting and intrusive editing," he writes, "reasonably sound in its general outline until it delves into specifics. […] Tech package aspires to the heyday of Europudding thrillers but doesn't hit the mark."
A friend of mine who caught an L.A. screening was less kind, telling me "It has the look of a Syfy original movie. He gets to Nuremberg, 'Death Wish' is on the TV, and for the next 30 minutes, the sight of a German (and there are many in the city) triggers a murderous hallucination — Scheider taking a chainsaw to a random German's throat, etc." And the ending? [SPOILER ALERT] "They abduct the guy, take him back to Poland, and just as Scheider realizes this is the wrong man, his son shoots the guy in the head. THE END. One of the worst movies I've ever seen in theaters."
Sadly, it sounds like Scheider's posthumous Oscar is probably not forthcoming; whenever "Death Wish" is your starting point, that's not a good sign. Trailer's below.
[Photos: "Iron Cross," Calibra Pictures, 2010]