Roman Polanski should direct "Breaking Dawn"…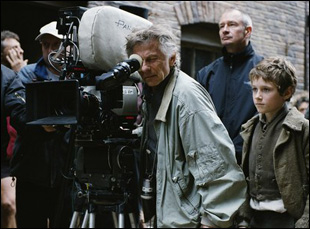 Posted by Stephen Saito on
…because hey, somebody has to, right? This time last year, all the acclaim for Kathryn Bigelow's "The Hurt Locker" actually led people to speculate that she'd be the natural choice to direct an installment of the "Twilight Saga," since both her film and the franchise were distributed by Summit.
Like Catherine Hardwicke, who'd just been dismissed because she thought she wouldn't have enough time to turn around a quality sequel, Bigelow also happened to lack a Y chromosome (and she's an exacting, intelligent director of kick-ass action, but for many, that was a secondary consideration). Summit eventually went with Chris Weitz for "New Moon" and "Hard Candy"'s David Slade for "Eclipse," and Edward and Bella had their marching orders.
With today's announcement that Roman Polanski's thriller "The Ghost Writer" has been picked up by Summit for a spring 2010 release, I think it's time to start a push for the newest member of the Summit family to direct the fourth and final installment in the "Twilight" books. I mean, sure, Weitz's successful outing with "New Moon" has led many of those same spectators to suggest he's the most likely candidate for the potentially two-part "Breaking Dawn" extravaganza, but there's still no director officially attached yet, and there are a couple reasons to think this could work, in spite of Polanski's legal troubles:
"Breaking Dawn" is batshit crazy.
By now, you may have read Devin Faraci's widely linked breakdown of Stephenie Meyer's finale to the vampire series, and if you haven't, you should. But to summarize, Edward (Robert Pattinson) and Bella (Kristen Stewart) finally consummate their relationship after getting married, have literally otherworldly sex and produce a crazy strong vampire baby who becomes the object of Jacob's (Taylor Lautner) intense affection. Faraci originally suggested David Cronenberg for the job, particularly for the way he might handle the "C-section [that Edward gives Bella] with his fucking teeth," but here I'd have to suggest the austerity that the director of "Rosemary's Baby" might be able to bring to the birth might amount to something even better.
He's available (sorta).
Summit's emphasized a quick turnaround on the "Twilight" series to keep the fleeting attention spans of its teenage audience, and Polanski, who was apparently able to finish the editing on "The Ghost Writer" while under house arrest in Switzerland, obviously has nothing but time on his hands. If Wes Anderson can direct a movie via email, there's pretty much no stopping Polanski from doing the same on "Breaking Dawn," some of which could anyway surely be filmed outside his door to mirror the wintry look of Forks, WA. Plus, he surely could use the cash for his legal bills, and Summit's already decided to weather any blowback about working with the guy by picking up his latest movie.
Actors love him.
Getting past the obvious obstacle/joke of having to direct teenage girls, Polanski could reinvigorate the series' star Stewart, whose boredom with the whole "Twilight" thing extends far beyond the glazed over look she gives to either Edward or Jacob when they're ripping off their shirts. Though biting her bottom lip has taken her a long way as Bella, Stewart's repeatedly shown that she wants to get back to the career she had before "Twilight" with films like "Into the Wild" and "In the Land of Women." (To that end, she spent her "Twilight" hiatus filming the Sundance-bound Joan Jett biopic "The Runaways" and "Welcome to the Rileys," in which she plays a prostitute.) Give her and likely Oscar nominee Anna Kendrick a director of similar stature and they might actually be happy to show up to work again.
And yeah, this is all in jest — but we'd never have predicted Werner Herzog would helm a "Bad Lieutenant" remake, either. Stranger things have happened.
[Photos: Roman Polanski on the set of "Oliver Twist," TriStar Pictures, 2005; "The Twilight Saga: New Moon," Summit, 2009]