The war over "Rabbit-Proof Fence."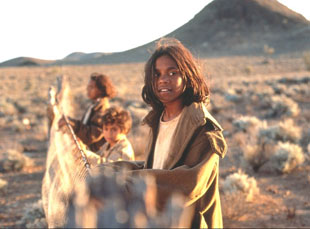 Posted by Vadim Rizov on
type="text/javascript"
src="http://tweetmeme.com/i/scripts/button.js">The treatment of Aborigines on-screen in Australia is a sensitive issue treated with a great deal more trepidation than, say, the way Native Americans are portrayed in American movies.
There's even a standard film preface/warning that "Aboriginal and Torres Strait Islander viewers should exercise caution when watching this program as it may contain images of deceased persons" — a nod to Aboriginal beliefs that if you capture the image of a person, you capture their soul, placing them in after-life limbo.
So it's no surprise that a movie like 2002's "Rabbit-Proof Fence," the story of three aboriginal girls, kidnapped by a government agent, who walked back home, and, from a larger perspective, an indictment of past Australian treatment of aborigines, is capable of igniting controversy some seven years on.
Since its release, "Rabbit-Proof Fence" has become standard viewing in Australian history classes, making it a flash-point for the "History Wars" arguments about whether Australia's settlement and colonization was benevolent, genocidal or in-between.
For those inclined towards the former view, talk of genocide, forced displacement and all is a gross exaggeration tending towards a "black armband" view of history. Those on the other side speak disparagingly of the "white blindfold view." And Noyce's film — with Kenneth Branagh at his most villainous as a foul-intentioned government man — is definitely on the side of the sensitive liberals.
Conservative historian Keith Windschuttle is kicking the argument open again with his new book "The Fabrication of Aboriginal History," prompting counter- and counter-counter claims with dizzying speed. He claims the 11 and 14-year-old girls in question were removed from their home because they were having sex with white men. Director Philip Noyce and screenwriter Christine Olsen quickly issued a counter-statement with opposing evidence from a later date. (Noyce called Windschuttle either "extremely lazy or just plain dishonest" for good measure.)
The mess spirals out from there even further, with conservative columnist Andrew Bolt citing a book written by one of the girls' daughters as evidence, while the daughter of the other girl has her own response. It's all very heated and more than a little unnerving.
As a non-historian, I can't begin to parse the evidence, though it's hard not to distrust Windschuttle the moment he starts claiming the villain in question only supported a "program to 'breed out the color' " for the, uh, benevolent motive of "fostering the marriage of part-Aboriginal women to white men." (Oh, so that's why they called it "breeding out the color." Problem solved.)
But mostly it's heartening (and a bit chastening) to see a country undergoing a prolonged and serious debate about its own past without resorting (solely, anyway) to counter-cries of "fascist!" and "socialist" (or "America-hater" or "reactionary" or whatever). We should be so lucky.
[Photos: "Rabbit-Proof Fence," Miramax, 2002]