Q & A with On Fillmore's Darin Gray and Glenn Kotche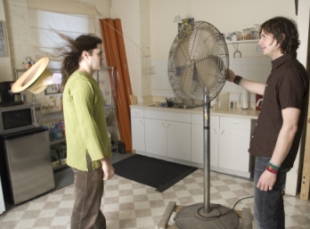 Posted by Brandon Kim on
I went about arranging an interview with Darin Gray and Glenn Kotche, aka On Fillmore, after their November release Extended Vacation to talk about it and these films they've been scoring, which was covered here yesterday. They both thought I should take the leap and "grab the monkey." As soon as I finish decorating this fake plastic Christmas tree to the sounds of Extended Vacation, I'm going to do just that.
[Darin Gray and Glenn Kotche of On Fillmore. Photo by Nathan Kaye]
Your sound lends itself well to the scoring horror films it seems, though I doubt one would exclaim that just from listening to one of your records. What is it about On Fillmore and horror? Are you particularly inclined to the mood, or the challenge of scoring suspense? Just really into New Jersey style S&M?

DG: Well, the funny thing is, outside of working with our friend J.T. Petty, I would say that neither Glenn nor I have a relationship with horror films at all. I think this is something that might set us apart from most composers working in the genre. We probably don't take the well-worn path or write something that might be obvious (out of ignorance, really). We are going with our guts, following our own path and, hopefully, at the end of the day, creating something that is lasting for us, the director, and the viewer/listener. I don't think we are inclined to any particular mood, but I do think we enjoy scoring suspense. I think we enjoy scoring anything really. That specific moment where you line up the music you just made with the image and crank up the volume through the speakers…magic.
GK: I completely agree. I think one aspect of our music thus far is patient repetition with very careful development – something that naturally lends itself to suspense. Also, since a big part of our sound is actually creating sounds – Foley style – in the studio, we use non-traditional, extra-musical sounds and combine them to create sounds that aren't loaded – sounds that people can't instantly recognize that are free of any emotional attachments or cliché's. That can be unsettling for a lot of people. Film music can really give a lot away subconsciously to the viewer and that's one aspect of our band/music that doesn't do that. It's also an interesting phenomenon that really pretty instruments – like vibes – sound scary to many people for some reason. And no, we are not in any way into NJ style S&M.
How did you come to work on these films with director J.T. Petty?
DG: Our work with J.T. really came about as a fluke, or at least it seemed that way. JT. was doing some editing at Quakebasket in NYC which was run at that time by our longtime friend and early On Fillmore supporter, Tim Barnes. I believe Tim was either playing one of our albums in his office or directly said to J.T., "Hey, check these guys out." Regardless, the outcome was JT asking us to do the soundtrack for "S&Man." Since that time we have also done the soundtrack for his short film, "Blood Red Earth" and a trailer for his wife's book called "Audrey's Door." It's funny really. J.T. heard/hears something in our music that I don't think ever really occurred to Glenn or me – that there might be something sort of creepy or sinister at work. It's not intentional, but I am happy that different listeners can draw their own conclusions of what it is we are doing.
I've been listening to Extended Vacation while pacing about my apartment. There are a lot of insane bird sounds on it. I feel like I'm losing my goddamn mind.
DG: First question I would ask back to you is "Are you ok?" Pacing… Bird sounds… sounds like you are indeed losing it. I think I would either keep this to myself or, better yet, and probably the best advice I could give you or anyone, is to just jump right in – take the leap of faith. Sometimes you just have to jump in the pit and grab the monkey, or in this case, the cuckoo bird. It involves trust that you will land on your feet and that you will come out the other side sane, but I have every confidence in you. We are going to get through this together and be all the better for it. Keep me posted on your progress.
GK: Some of the most rewarding experiences in my life began with a little bit of terror – take Darin's advice and just jump in and go on the vacation that we made for you.

Don't mind if I do! I imagine you bring a degree of your other band experiences into this project, but clearly On Fillmore is in its own world. Where is that world exactly?
DG: It makes me happy that you think that On Fillmore is in its own world. It's probably the same world you live in actually, but maybe it seems a little strange because things previously not noticed or cared about have now been brought into extreme focus. Maybe they are even going in and out of focus? At least that is one of our wishes. I would hope that this world (we call it a place) would not be a specific one, but a place you could visit as a listener and one that, hopefully changes a bit with each visit or listen if you will. It is possible that the spark that created this world might have begun somewhere during the 5 hour stretch between our houses. Again, not specific, but the mental drifting that comes during this drive is at least a starting point.
GK: We want that place to be somewhere seemingly familiar on the surface but as you invest, you realize how far down the rabbit hole you've gone. By upsetting the balance of familiar sounds, the roles of those sounds suddenly change – you process them differently. Also, by taking sounds out of context you allow them to simply be sound – and sometimes that can be really powerful.
What kind of influences do you draw from when you get together?
DG: Most times I think the tendency here is to just list some bands. But with On Fillmore, it is a little more complicated or maybe even simple. Working together, talking through things, bouncing ideas off each other, being close friends, sharing likes and dislikes, sharing great meals, trial and error, curiosity, a willingness to experiment, a willingness to fail, trusting each other enough to throw it all away and start over again, our families and friends, people that we work with on a regular basis, etc… These are the real nuts and bolts that make us tick. These things probably affect and influence us more than any specific band, composer, artist, etc. Glenn and I both have a love for that 'what would happen if we tried this' moment. Both of us have somehow remained curious and maybe even, at times, childlike when it comes to making music. Not an easy task let me tell you.
GK: I'd like to add that we both have heard a lot of music. When we make something and look at each other wondering "what the hell is this?" we know we've gotten it right – at least for us and the reason for this band in the first place.
What film would you like to live inside of, if you could?
DG: There are a few big ones from my childhood that I certainly would not mind living in: "Mary Poppins," "Willie Wonka & the Chocolate Factory," "Chittie Chittie Bang Bang," "Herbie the Love Bug," and "Doctor Doolittle."
GK: "King of Hearts," "The Nightmare Before Christmas," "The Point."
What film would you liked to have done the soundtrack or score for?
DG: Off the top of my head I will give you three, again, I could go on for hours:
Tarkovsky's "Stalker" (or" Solaris" for that matter) even though I think the soundtrack is [already] amazing. Werner Herzog's "Fata Morgana" or any thing Werner has touched – again, his soundtracks are always amazing. Kurosawa Kiyoshi's "Akarui Mirai" (Bright Future) – I love most everything he has done, but for some reason this one has really stuck with me.