Apologizing for Pablo Escobar.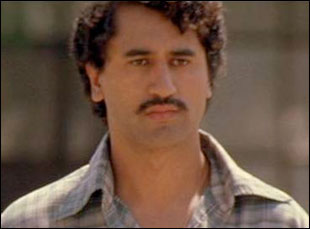 Posted by Vadim Rizov on
There are multiple John DeLorean movies in the works. "Wall Street 2" has wrapped. And now another, much more serious ghost of the '80s has come to haunt us: Pablo Escobar.
The Colombian drug lord — whose cartel at one point controlled 80% of the global cocaine market and whose personal wealth of $25 billion had him listed as Forbes' seventh richest man of 1989 — has been the potential fuel of many films over the years. There was a Timbaland attempt to outdo "Scarface", an Antoine Fuqua movie produced by (of course) Oliver Stone and the rock bottom alternative of Joe Carnahan's "Killing Pablo" — not to mention "Entourage"'s fictional "Medellín."
Now there's a documentary, "Sins of My Father," for which Escobar's son outed himself from years of anonymity.
Quietly living for years in Buenos Aires under a different name, working as an architect, the newly-christened Sebastian Marroquin though it important to make a film which would — according to director Nicolás Entel — show Marroquin apologizing to and seeking forgiveness from the brothers in order to promote quelling violence being passed down from generation to generation.
It's safe to say this is the documentary event of the year in Colombia: an unprecedented 20 prints are being struck, more than any doc in Colombian film history. ("Sicko" didn't even make it; "Waltz with Bashir" got one.) That's because Escobar built churches, gave money to housing projects, rewarded the killing of police officers (over 600 went down) and raised Colombia's murder rate prodigiously, blighting an entire generation. He influenced his country more in the '80s than any single person shaped America, and wounds/opinions still run strong.
The trailer's below; it looks a little wan, to be honest, built upon the worst confessional models of American reality, with reconciliations and tears staged for maximal impact. But formal sophistication isn't really what's at stake here (though it couldn't have hurt): the collision of still-persisting shock waves and a deep anecdotal treasure trove is. Oliver Stone could only dream of such attention paid to his own history of the world.
[Photo: Cliff Curtis as Escobar in "Blow," New Line, 2001; "Sins of my Father," Cine Colombia, 2009]