Owen Pallett's Final Fantasy, Rabbit Hole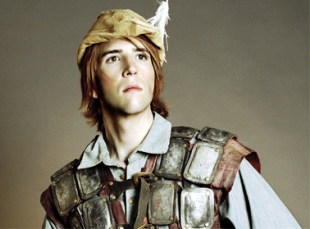 Posted by Brandon Kim on
You're forgiven if you've ever been confused about Owen Pallet's band Final Fantasy, the video game/anime/film series is crazy enough. Maybe you thought it was just another part of that media franchise. I did until I started reading about this Owen Pallet's many musical collaborations. These include bands like Arcade Fire, Grizzly Bear, Beirut, Mountain Goats and even Pet Shop Boys – which I suspect might be heroes of his.
Then of course, there was his last album, 2006's He Poos Clouds, a musical exploration of death and atheism through the application of a belief system known as Dungeons and Dragons. That sure got my attention but while I'm a believer in the schools of magic my D&D tunes have always been Led Zeppelin, obviously.
Final Fantasy's new record, Heartland is out January 12th, another far out, fully orchestral record, Pallett describes as, "A narrative concerning a farmer named Lewis and the fictional world of Spectrum. The songs are one-sided dialogues with Lewis, a young, ultra-violent farmer, speaking to his creator. The album was compositionally modeled upon the principles of electronic music. The principles of analog synthesis informing symphonic writing, like an inversion of a Tomita record." Electronic composer Isao Tomita I'm sure.
Pallett is currently scoring the upcoming film "Rabbit Hole" starring Nicole Kidman and Aaron Eckhart. It's a drama adapted from a Pulitzer Prize winning play of the same name about a fraying family after the death of a child. "Hedwig and the Angry Inch" director, John Cameron Mitchell is in charge. Sounds pretty strange, but that's nothing new to Pallett, who's score just might be spellbinding.
Check out Final Fantasy on Domino.